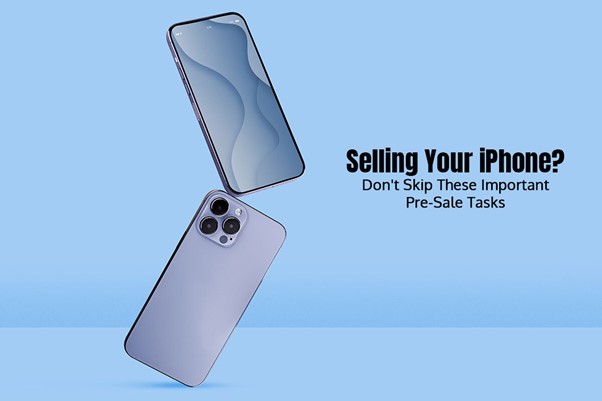 Have you decided to sell your iPhone? With the latest iPhone 15 and iPhone 15 Plus models available for purchase, it is no surprise you want to sell your old iPhone to recoup some cash and ensure your phone does not collect dust in some corner of your house.
But you cannot simply wake up and hand over your trusted companion to a new owner. Some critical presale tasks must be completed. These tasks are focused on protecting your privacy and data and ensuring a smooth transition to your new iPhone.
Continue reading to know the presale tasks. However, they are not written in any order of importance.
Create a Backup of your Phone
Backing up your iPhone is one of the first things you must do so your essential data is safe. Backing up iPhone data includes your precious photos, apps and app data, contacts, messages, and more.
You can safely store these data so they can be transferred to your new iPhone.
On your iPhone, you have two primary backup solutions:
iCloud: Head to the Settings app > tap your name > select iCloud > tap iCloud Backup > tap Back Up Now.
iTunes (on macOS Catalina and later, it is known as Finder): iTunes is a wired backup option where you have to connect your phone to your PC or Mac. Choose your device and select Back up Now.
You can have peace of mind if your data is backed up in a secure location. This also means you can instantly start using your new phone by picking up where you left off.
Transfer Data to your New Phone
Enjoy a seamless transition if you are upgrading to a new iPhone by using the Quick Start feature. With this feature, you can transfer all the backed-up data of your old phone to your new device.
To transfer data on new iPhone, turn on your new device and place it next to the old one. The setup animation will be displayed on your old phone; select Continue. Then, use your old device to scan the animation on your new device and then follow the on-screen prompts.
When prompted, select whether you want to restore all the data, settings, and apps from your recent iTunes or iCloud backup. Then, let the process complete itself.
Sign Out of your Apple ID Account
The Apple ID is the most important component of using Apple devices as it is key to accessing apps, personal data, and other Apple services. You must sign out of your Apple ID on your device so the new owner cannot access your accounts.
Go to the Settings app and tap your name. Find the Sign Out option and select it. If prompted, enter your Apple ID password.
Signing Out of your Apple ID Account is Essential, or the Next Owner May Face Problems Using the Device.
Unlink the Device from your Apple Account
It is important to unlink or dissociate the old phone from your Apple account so the new owner cannot see or track your activities.
You can unlink your old phone from your Apple account by going to the Apple ID website and signing in with your Apple ID. Scroll to the Device section and locate your old phone. Click on the device and tap Remove from Account. This will unlink your old phone from your Apple account.
Remove all Settings and Content
Even after you have signed out of your Apple ID and unlinked the old phone from your Apple account, it is best to erase all content and settings. This is going to remove everything, including apps, app data, photos, videos, and other data. Ensure to back up important data before going ahead with this step. Once you do this, everything in your phone will be deleted permanently.
Erasing all content and settings is also known as a factory reset, and to do this, head to the Settings app > select General > tap Reset > choose Erase All Content and Settings. Enter your Apple ID password and device password if prompted to confirm your action.
This will make your old phone ready for its new owner and go back to its factory settings.
Remember to Remove the SIM Card
Check whether you have removed your SIM card before selling your old iPhone.
Clean your Old Phone
Once all the internal data and settings are cleared, it is time to clean the phone externally so it looks as good as new. Remove smudges, fingerprints, or dirt from the casing and screen.
Wrapping Up
You must complete these critical presale tasks before selling your old phone. This will ensure your privacy and data are safeguarded while you make a seamless transition to your new iPhone. Also, the new owner is guaranteed to have a positive experience using your old device.
Continue to check our website for more articles of this kind. And, please use our comment section as well, we would love to hear from you.