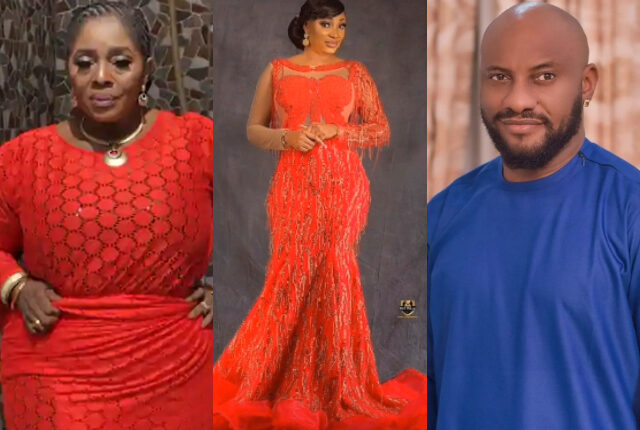 Despite the scandal surrounding their second wife, veteran actress Rita Edochie explains why Yul and May Edochie cannot get a divorce.
The actor and his wife cannot get a divorce, according to the movie star who has frequently appeared online to promote May Edochie.
Rita claims that May is buying time because she thinks that any spell performed on her husband would be removed if it were to expire.
She said May would speak up as well after she is done grieving the loss of her late son, Kambilichukwu, who passed away in March.
Rita Edochie wrote:
"NO DIVORCE BETWEEN QUEEN MAY YUL EDOCHIE AND HER HUSBAND YUL EDOCHIE.

MY GREAT PEOPLE IN THE WORLD, QUEEN MAY YUL EDOCHIE BELIEVES THAT ANY SPELL CASTED ON THE HUSBAND OF HER YOUTH WILL SURELY EXPIRE SOMEDAY.

SHE WILL SPEAK UP AFTER MOURNING HER LATE SON KAMBILI.

I STILL THANK YOU ALL FOR THE PARSIONATE LOVE ON OUR FAMILY AND MOST ESPECIALLY THE ONLY VERIFIED AND KNOWN WIFE OF YUL EDOCHIE, QUEEN MAY YUL EDOCHIE.

I AM CONVINCED THAT THOSE CALLING FOR HER DIVORCE ARE EITHER NOT MARRIED OR ARE FROM A BROKEN HOME."
"Any woman going from one native doctor to another…" – Rita Edochie fires prayer for May
Rita Edochie, the aunt of actor Yul Edochie, has maintained her unrelenting effort to deal with people who are making life difficult for the actor's first wife, May.
On Wednesday, May 17, Thespian took to Instagram to pray for May Edochie, similar to how Yul and his second wife, Judy, had been acting recently since the death of his first son.
Rita prayed to God to destroy evil done by the enemy against May and her marriage to the actor.
The prayer went thus:
"Anybody going from one herbalist's house to another, fire. "When they crucified Jesus, they thought they had finished him. Little did they know that they were helping him fulfil his destiny.

Everything that men have done against you and to destroy you, I declare, will push you to your destiny"

Captioning the clip, Rita Edochie wrote via Instagram;

"My prayer for our verified wife queen May Yul Edochie"