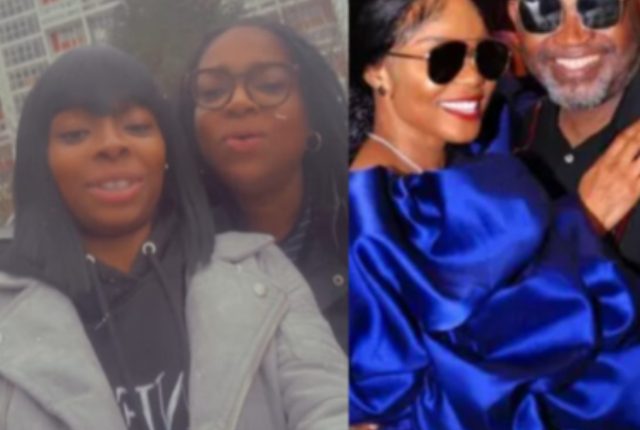 The step daughter of Nollywood actress, Iyabo Ojo has got Netizens talking as she celebrates her mother on mothers' day
Joining the world to celebrate Mothers' Day today 19th March, Vanessa took to her Instagram page to share a beautiful video of herself and her mother
Vanessa Onyinye, the stepdaughter of actress, Iyabo Ojo has got Netizens talking as she celebrates her mother on mothers' day.
It is no news that Vanessa's father, CEO of One Africa Music Fest, Paul Okoye is the lover of Iyabo Ojo after they unveiled their relationship to their fans on social media three months ago with many applauding the 'celebrity couple' for being mature.
Having two grown-up children, Netiznes have always wondered who the mother of Paul Okoye's kids is as many find it difficult to lay claims that Iyabo Ojo snatched her lover from his wife. Also, to the surprise of many, Paul Okoye's children joyfully refer to their fathers' lover as 'stepmom' and keep a cordial relationship with her children.
Joining the world to celebrate Mothers' Day today 19th March, Vanessa took to her Instagram page to share a beautiful video of herself and her mother.
In the video, Vanessa and her mother are seen beautifully gushing over each other. Captioning the post, "Happy Mother's Day Mummy Love You"
Reactions have however trailed the video as many expressed shocks that her mother is alive and well others gushed about how beautiful they are.
One Juliethjv wrote: "Haha so she's still alive n aunty iy took over ur father. Pls young lady oya take mic n explain to d whole world wat happen"
One Osorgua wrote: "Happy Mother's Day to ur beautiful mum. I can't even feel bad towards Iyabo cos I like her as well. Everybody will be alright last las"
One BeautybyMarvel wrote: "No vex ooo but y ur papa come remarried again?"
One Plaxxa 44 wrote: So your mother is alive? Just asking o ? E get why?"
The Offifical Geefty wrote: "Awwwww your mum is so pretty…..didn't know you still had your mum…. Happy Mother's Day Mama! We love you.