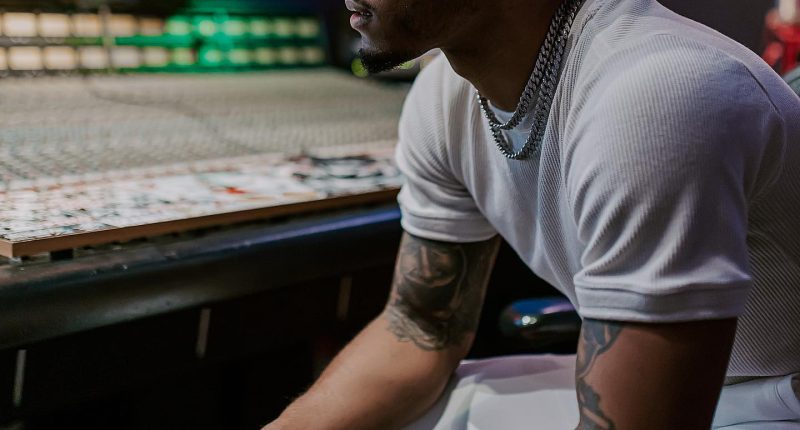 Find out "10 Interesting Things You Didn't Know About Rome Flynn" When people see Rome Flynn, they may be quick to assume that he's nothing more than just another handsome face. That, however, couldn't be any further from the truth. Over the course of his career, Rome has shown that he is talented in more ways than one, and he has worked hard to earn his place in the spotlight.
10 Interesting Things You Didn't Know About Rome Flynn
Many people will recognize Rome best from his role as Zende Forrester Dominguez in The Bold and the Beautiful and Gabriel Maddox in How to Get Away with Murder. 
Most recently, he earned a spot in the second season of the Netflix season Raising Dion. Although the show was a little different from the types of things we're used to seeing him in, he showed once again that he has the range to pull off just about anything. Keep reading to learn 10 interesting things you didn't know about Rome Flynn.
1. He Was A College Athlete
Rome was born and raised in Illinois. However, he didn't grow up with plans of becoming a professional actor. Instead, sports were his main focus and he proved to be a very talented athlete. He attended Lanphier High School in Springfield where he was a member of the basketball team. His skills on the court earned him a lot of attention and he eventually earned a basketball scholarship to Benedictine University which is also located in Illinois. While in college, however, Rome would get the opportunity to break into the entertainment industry and he decided to take advantage. He eventually decided to relocate to the Los Angeles area and he hasn't looked back since.
2. He Has An Account On Cameo
20 years ago, getting a personal shoutout from a celebrity was almost unheard of. If it did happen, it was usually the result of some serious luck. Thanks to advances in technology, however, it is now easier than ever before to directly connect with your favorite celebrities. Those who are fans of Rome Flynn's will be happy to know that he has an account on Cameo. Through the platform, he is able to record and sell personalized video shoutouts. These videos make great gifts for birthdays, holidays, and other special occasions. Unfortunately, Rome isn't accepting any new orders at the moment but if you visit his Cameo profile you can select the option to be notified when he's up and running again.
3. Rihanna Inspired Him To Take His Music More Seriously
Most people who are familiar with Rome Flynn know him for the work he's done as an actor. However, he is also a talented musician. In fact, singing was actually his first love. That said, though, he had kind of put his musical aspirations on the backburner once his acting career took off. Little did he know, however, encouragement and inspiration would eventually come from one of the biggest stars in the music industry: Rihanna.
During an interview with Hollywood Life, Rome said, "I was at the point where I was in the middle of trying to figure out what I was doing with music and acting. And it had become kind of difficult to maintain both at the same time. And I didn't know what direction I wanted to go, and then I got a DM from [Rihanna] almost right after I was thinking about that situation".  He went on to say, "She sent one of the videos I had put on my IG. She said that I had a great voice, and I was like, 'Wow, I appreciate that, Queen". The interaction was especially impactful because the two had never met. Perhaps one day they'll get the chance to work together.
4. He's A Father
For the most part, Rome has remained pretty private when it comes to his personal life. As a result, lots of people may now know that he has a daughter. His daughter, Kimiko, was born in 2014 but he has made it a point to keep her away from the spotlight. He also hasn't revealed any information on her mother although he does appear to be single and has never been married as far as we know. Although Rome is very proud of everything he's accomplished in his career, nothing means more to him than being a father. He hopes to be able to take on more roles in projects that his daughter would enjoy watching.
5. He's Been Homeless
Things weren't easy for Rome when he was growing up. His family struggled financially and they often went without basic necessities. While talking to Pop Culturist, Rome revealed that he spent time living in homeless shelters in Chicago before his family moved to Springfield. Even though those times in his life were difficult, they inadvertently helped to prepare him for some of the other challenges that he's had to face – especially when it comes to the entertainment industry. At the same time, the difficult experiences he's had have also taught him never to take anything in life for granted. As a result, he approaches each situation with a sense of gratitude and he's always looking for ways to better himself and level up in his career.
6. Tyler Perry Is His Biggest Influence
No matter how talented or unique a person is, there are always other people who have influenced them. For Rome, that influence comes from one of the most well-known figures in Hollywood. When asked who has had the biggest influence on his career, Rome told Pop Culturist, "Tyler Perry. I met him after I was done with The Bold and the Beautiful. I was there for two and a half years. I was working with him during that time. I did a few shows with him and a movie. But he really inspires me business-wise. He's a really smart businessman." He went on to explain how Tyler helped him realize that if he could visualize something then he could eventually turn it into reality.
7. He Was A Fan Of Raising Dion Before Being Cast
For many actors, it's a great experience when they get to be part of a project that they've always loved. Needless to say, Rome was especially excited to be cast in Raising Dion because he was a big fan of the show's first season. However, that wasn't the only reason he really appreciated the opportunity. During an interview with BET, Rome said, "in my journey of acting, I've done a bunch of projects where I'm like, 'Cool, that's tailored towards certain genres or groups,' but never anything I could actually have any of my nephews, or even my daughter, watch. They never watch me in anything, so they can watch me in this and, all of a sudden, I'm cool again. That's all this is about. I'm just trying to be cool with all the little kids in my life. I don't want awards. I just want to be cool and for them to think I'm cool."
8. He Has Modeling Experience
Rome's good looks are probably the first thing many people notice about him. They have also opened the doors to lots of opportunities over the years. Prior to getting serious about acting, Rome was a high-fashion model when he was still living in Chicago. While it's true that Rome's looks have benefited him, it's not something he likes to get hung up on. He told Hot New Hip Hop, "I think that a lot of times people just see me for my photos and they only see me as some sex symbol or something like that. I never asked for any of that. It just kind of happened…when people give me compliments on how I look, I frankly don't take them with much credibility".
9. He Spent Some Time In Jail
Have you ever had a time in your life where things were finally going well and then, boom, life hits you with an unexpected and unwelcome curveball? That feeling is definitely something that Rome Flynn can relate to. After working a series of odd jobs in Illinois, Rome finally got the opportunity to relocate to Los Angeles for better opportunities. However, not long before he was supposed to move, he was involved in a car accident. He chose to flee the scene which resulted in him having to spend five days in a local jail. While behind bars, he watched The Bold and the Beautiful. Never could he have imagined that he would eventually be in that very same show. While some people would've let the accident and the subsequent time in jail deter them from making the move to California, all it did was make Rome feel more motivated.
10. He's An Emmy Award Winner
When Rome was starting his acting career, he wrote down a list of goals that he had for himself. One of them was to win an Emmy Award. He achieved that goal in 2018 when he won an Emmy for Outstanding Younger Actor in a Drama Series for his work in The Bold and the Beautiful. More than likely, there will be even more awards in his future.
10 Interesting Things You Didn't Know About Rome Flynn | Home