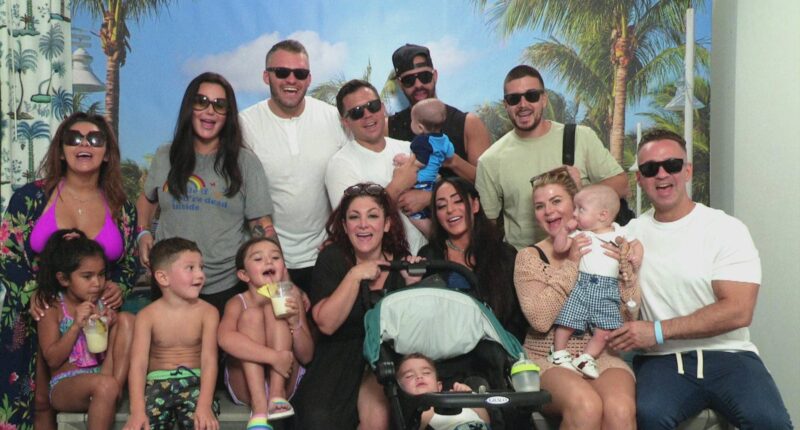 Jersey Shore: Family Vacation returns with new episodes on Jerzday, June 23 with the episode "Livin' La Vida Loca." There's sure to be plenty of drama between the roommates in the second half of the season, especially with two all-new vacations. But before they get into new drama, here's a recap the three biggest sources of drama in the first half of JSFV Season 5. 
Angelina and Chris were in a good place in the 'Jersey Shore: Family Vacation' mid-season finale 
In the first half of Jersey Shore: Family Vacation, Chris Larangeira and Angelina Pivarnick seemed to be doing better. "The Sexpert" episode showed Angelina and Chris opening up to each other with the help of a sex expert. 
Angelina spoke about her childhood abandonment and Chris admitted feeling secondary to Angelina's friends and family. In "The Lie Detector Test," Chris said he could see himself and Angelina together forever. 
Now, Chris and Angelina are going through a divorce. Chris filed in January 2022 when the first half of season 5 began to air. Watching the show back was hard for Angelina, who was outspoken on social media. The second half of the season will likely explore their separation a bit more. 
Lauren Sorrentino's Florida edit caused backlash from 'Jersey Shore' fans
Jersey Shore: Family Vacation fans quickly criticized Lauren Sorrentino in the first half of the season after she snapped at Deena Cortese and Vinny Guadagnino during a family dinner. Exhausted from travel and still experiencing postpartum depression, Lauren said: "We have a f***ing five-month-old to deal with, OK? [He's a] 24-hours a day human so we have to go to bed." 
In yet another moment from their Florida trip, Lauren appeared to snap her fingers at the waitstaff only to return her spicy margarita. Fans had plenty to say about the ordeal, calling her "snobby," "rude," and "drama." Lauren labeled a "spicy situation" on social media.
She also addressed her behavior on the Here's the Sitch podcast. "I think it was extra hard for me to go through that feedback … when I did because of the sensitivity of being a new mom," Lauren said, calling her actions out of character. She's excited for fans to see the second half of season 5 and take a back seat to the drama this time. 
Mike 'The Situation' Sorrentino threw another party for himself instead of Vinny Guadagino
Mike Sorrentino loves a good party. He throws one for himself in almost every season of Jersey Shore: Family Vacation, and the first half of season 5 was no different.
In the Mar. 3 episode, Mike thew himself a celebration for officially being "off paper." To honor his Fourth of July birthday, Mike called the big bash the "BDS Independence Day" party. This wasn't a big deal to the roommates, who mostly rolled their eyes at Mike's penchant for parties. However, Vinny played up being hurt by Mike throwing himself another party, as his birthday was just around the corner.
If there's one thing you can bet on, it's Mike throwing another party in new episodes of Jersey Shore: Family Vacation Season 5. Tune in to new episodes beginning at 8 p.m. ET on MTV. 
RELATED: 'Jersey Shore: Family Vacation' Promo Image Teases Mike 'The Situation' Becoming the Villain in New Season