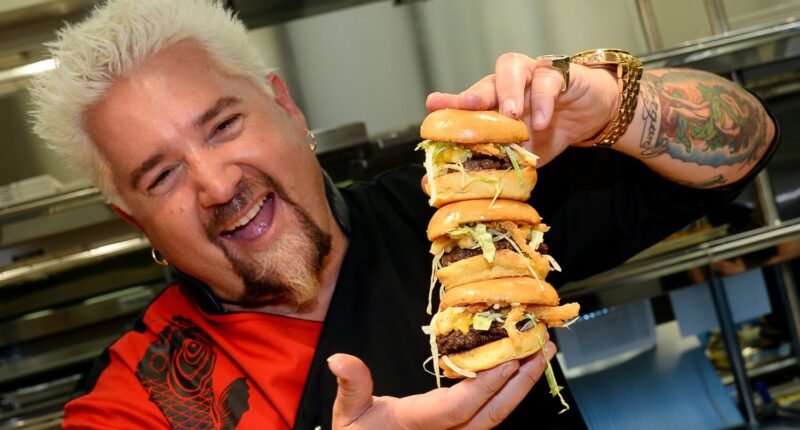 Find out "Is Guy Fieri Now The Highest Paid Chef?" The likes of Guy Fieri are not facing any problems and instead continue to make great things in the industry in spite of numerous unsavory allegations.
Chef goateed and spiked-haired, who is often referred to as the mayor of flavortown, just signed a ten-figure deal with the Food Network in 2021 that is worth a whopping ten-figures.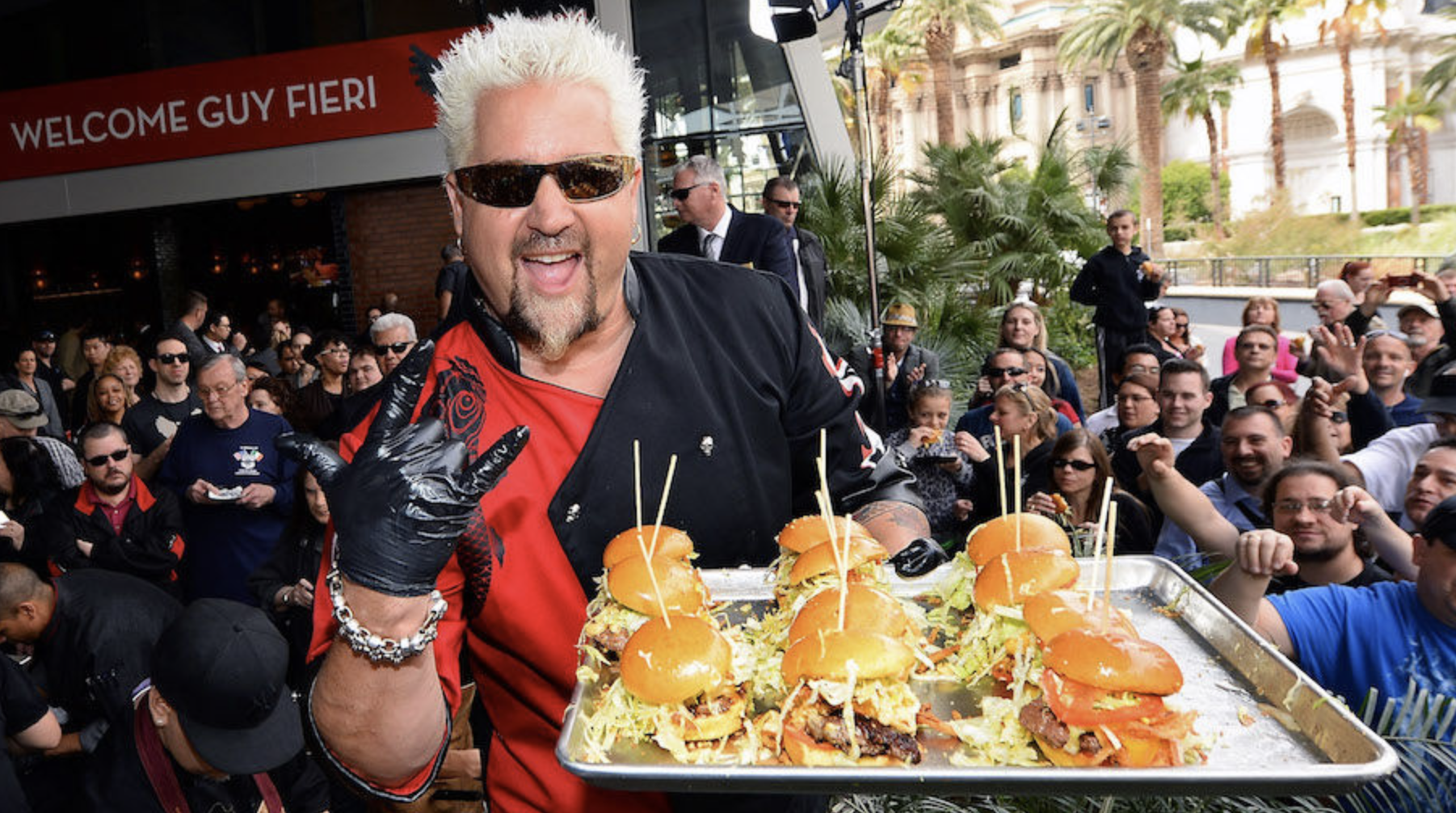 Fieri, who hosted shows for peanuts back in the early 2000s, will receive $80 million over the next three years, making him the highest-paid celebrity chef in the world as well as one of the highest-paid TV personalities. Fieri has put in decades of effort into honing his craft to achieve such an incredible feat. However, he is determined to keep on doing more exploits throughout the world and not rest on his oars.
See Also | Alex Choi Net Worth: How Did He Make His Money?
Is Guy Fieri Now The Highest Paid Chef?  Makes Approximately $26 Million in TV Earnings Each Year
Guy Fieri's celebrity chef career wouldn't be complete without a string of TV shows. He got his first taste of television when he competed on the 2006 edition of the Food Network reality show, The Next Food Network Star. After winning the show, he was given the chance to host his own show on the network. Guy's Big Bite premiered on June 25, 2006, and Fieri was paid a paltry $1000 for each episode.
The poor pay did not deter him from doing what he did best. In addition to hosting Guy's Family Road Trip, Guy off the Hook, Guy's Grocery Games, and Ultimate Recipe Showdown, the mayor of flavortown has become the biggest name on the Food Network.
His most popular show remains Diners, Drive-Ins, and Dives where he travels across much of America looking for hidden spots with unbelievable meals. It is Fieri's charismatic, sincere, and down-to-earth persona that has made Triple D a hit even among demographics that do not normally watch cooking shows.
As a result of such an accomplishment, he has received several accolades, including a star on the Hollywood Walk of Fame. Forbes estimates that Fieri earns $26 million each year from his TV work.
Guy Fieri Got Into the Food Business at Age 10 When He Began Selling Pretzels
Looking at the background that Guy Fieri hailed from, many would not have predicted that he would end up as a chef, least a celebrity one at that. As the story goes, his parents were a bunch of hippies who often embarked on long-distance road trips. Tofu was the family's de facto food and the young Fieri, who didn't particularly care for the dish, had to learn how to fix his own meals in order to have something to eat each day.
From fixing meals for himself, Guy Fieri began selling pretzels when he was aged just 10. He later harbored dreams of becoming a chef and saved up money with which he traveled to France for a year of culinary training. On getting back to the U.S., Fieri wisely decided to learn the nitty-gritty of hotel management in college. He completed his degree and went on to work for several restaurants, all the while honing his own skills. He would later open his first restaurant in 1996, aged 28 years old.
Fieri Now Has a Net Worth of $25 Million Thanks to His Chain of Restaurants
Guy Fieri's first restaurant was Johnny's Garlic located in Santa Rosa, California. The place provided a wonderful combination of Mexican and Texan dishes and had the makings of an Italian-American pub. The restaurant proved to be quite successful, prompting Fieri and his business partners to open two additional locations.
Fieri would go on to open other restaurants over the years, including Tex Wasabi's, Guy Fieri's Vegas Kitchen and Bar, and Guy Fieri's Baltimore Kitchen & Bar. These establishments generate millions of dollars each year for him and he has further complimented the income by licensing the name of his establishments for use by other people. For instance, his now-defunct Guy's American Kitchen and Bar has been licensed for use on several carnival cruise ships.
Fieri Has Also Earned Good Money From His Chicken Guy and Flavourtown Ventures
Other lucrative sources of income for Guy Fieri include his two recent ventures, namely Chicken Guy and Flavourtown, both of which are collaborations with Planet Hollywood CEO, Robert Earl. Flavortown is a delivery-only business that gives customers the opportunity to get assorted foods such as fried chicken sandwiches, wings, and more from the Guy Fieri brand.
An average Flavourtown order is worth $35 and it has grown to become one of Earl's strongest delivery-only brands with 175 locations nationwide. Chicken Guy, on the other hand, has equally shown great promise. The brand came into existence in 2018 and has already spurned more than two dozen franchises that specialize in selling items such as chicken tenders, fried chicken sandwiches, and fries, etc.
His Net worth is Set to Appreciate Thanks To An $80 Million Three Year Deal With The Food Network
When Guy Fieri debuted Diners, Drive-Ins, and Dives in 2006, he only wanted to give some funky places some recognition and thought that the show would patter out after just two seasons. Triple D has gone on to exceed all expectations though and is now the longest-running show on the Food Network (15 years and 31 seasons). It also generates mouthwatering ad revenue for the network (as much as $230 million in 2020 alone).
Such a performance has made Fieri indispensable to the Food Network and they have no hesitations in offering him better contracts. In May 2021, they offered him a three years agreement that will pay him $80 million. The deal makes Fieri the top paid chef on TV. He is also the highest-paid star on the whole Discovery Network. The contract is indeed a milestone for Fieri's career and will certainly see him double his net worth over the next few years.
Guy Fieri Has Received Praise for Raising Millions of Dollars for Hospitality Staff During the Covid-19 Pandemic
The Covid-19 pandemic of 2019 and 2020 affected all sectors of the economy but one of the hardest hit was the hospitality industry. Due to the mandatory shutdowns enforced by the authorities, several restaurants and hotels were forced to temporarily close down their businesses. The situation left their employees in dire straits and one of those that utilized his celebrity power to help out was Fieri.
The famous chef partnered with others to launch a Restaurant Relief Fund to help out hospitality staff that were without work. The Fund raised over $22 million which was subsequently disbursed as one-time checks of $500 to about 43,000 restaurant workers. In the disbursement, the fund tried to be equitable as possible and recorded 60% of recipients who were women and 50% of recipients who were ethnic minorities. The effort fetched Fieri and his other partners a ton of praise from all and sundry.
See Also | Billionaire Tom Siebel faces controversy at AI software vendor C3.ai