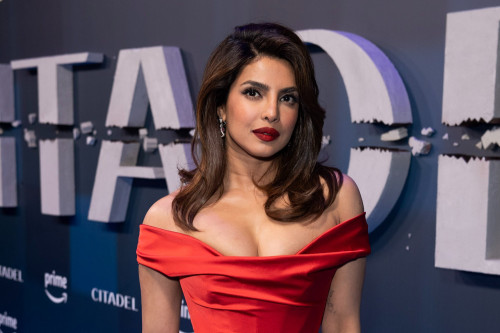 Priyanka Chopra felt "dehumanised" when a director requested to see her underwear on set.
The 40-year-old actress was working on a project early on in her acting career where she had to play a seductive character and recalled the unnamed director of the movie making sure that the camera could see her underwear, claiming that "no-one" would come to see the movie otherwise.
She told The Zoe Report: "I'm undercover, I'm seducing the guy—obviously that's what girls do when they're undercover.But I'm seducing the guy and you have to take off one piece of clothing [at a time]. I wanted to layer up. The filmmaker was like, 'No, I need to see her underwear. Otherwise why is anybody coming to watch this movie? It was such a dehumanizing moment."
The 'Citadel' actress – who is now married to former Disney Channel star Nick Jonas and has 16-month-old daughter Malti Marie with him – went on to explain that the alleged incident made her feel as if she was "not important" in her job and eventually quit after just two days on the set.
She added: "It was a feeling of, 'I'm nothing else outside of how I can be used, my art is not important, what I contribute is not important. I just couldn't look at him every day."
Priyanka also added that it was difficult for her to break into American movies because she was forever considered a Bollywood actress.
She said: "People didn't want to take meetings with me because they thought I was a Bollywood actor and I couldn't do mainstream American movies. I had been on the cover of this [fashion] magazine six times in India and they wouldn't take a meeting with me in America. Because they were like, 'Oh, I don't know what we'll do with her.'"
Post source: Female First