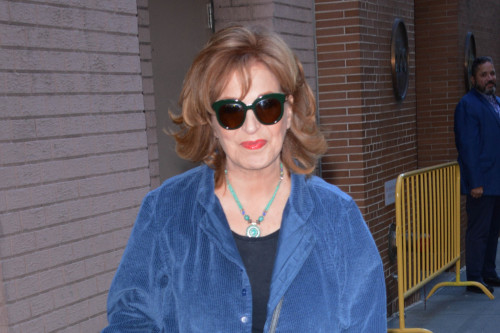 Joy Behar had a dig at her firing from 'The View' while telling how Tina Turner's death has "gotten me in my kishkas".
The 80-year-old TV host previously insisted she was happy to have been booted from the talk show in 2013, but referenced it in a jibe while discussing the impact of Tina's death, announced by her representative on Wednesday. (24.05.23)
Noting her "hiatus" while talking about Tina on Thursday's (25.05.23) episode of the show, Joy added: "There's something about (Tina.) I've been on this show for 26 years, right, with a small hiatus as we all know – forced."
Joy then paused as the audience tittered, before adding more seriously about Tina's passing after she suffered decades of health woes that "for some reason" her death "has gotten me in my kishkas".
The presenter went on: "I don't know what it is – something about her that she just got to me – I could start crying right now."
Thursday's 'The View' kicked off with its presenters walking on to Tina's seminal 1989 cover of Bonnie Tyler's 'The Best', which replaced the show's usual 'For my Girls' theme, sung by Brandy and Nicole Scherzinger.
Moderator Whoopi Goldberg, 67, sang along to the tune and Sunny Hostin, 54, shimmied as she took her seat, while Joy shook her head and admitted: "That made me want to cry. I swear I got so verklempt. Wow."
Joy told Tim in 2022 about her 'The View' sacking: "I was glad to be fired. I basically was sick of the show at that point for some reason, I don't even remember why."
She was one of the ABC show's original hosts alongside its late creator Barbara Walters, who died last year aged 93, as well as Star Jones, 61, Debbie Matenopoulos, 48, and 69-year-old Meredith Vieira.
Her exit didn't last long as she continued to guest host in 2014 and 2015 – the year ABC announced she would be returning permanently for its nineteenth series.
Post source: Female First