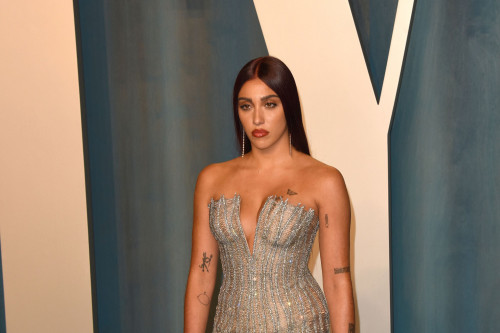 Madonna's daughter Lourdes Leon was left "spurting blood" in a motorbike crash.
The 26-year-old model revealed the accident in a cover interview with The Face magazine, in which she also told how she is "painfully straight" and has zero interest in dating women.
She said when asked if she had any scarring on her body: "I have a scar on the back of my thigh from crashing my moped into the Williamsburg Bridge and getting body-slammed by my own scooter.
"I was sandwiched between my scooter and the bridge, and the scooter was locked into the bridge, so I couldn't get out. The wheels were still turning and I lost three nails, my hand was bleeding, I was spurting blood."
She added she thought she was "well-behaved" as a child for her superstar mum, 64, and feared she "may have been spanked" if she had misbehaved.
Lourdes said: "I feel like I would have gotten spanked if I wasn't well-behaved.
"Manners were very important to my family growing up."
But she admitted her first memory was weeing on one of her mum's important documents.
She said: "I remember getting in trouble for p****** on a very important document of my mom's, in her office. She was not paying attention to me or something, and I just squatted and let the pee flow."
Turning to her sexuality, the model said: "I don't like girls. I'm painfully straight, it's terrible… I am cursed, plagued with liking these men.
"I think a lot of people think that getting with someone else is gonna be the thing that helps them to get over their old thing, but really it just prolongs those feelings. That's the real spiral.
"The best thing you can do is just be horny for yourself."
Lourdes, who is a rising singer and last year released her debut EP 'Go', added about avoiding romance if you want to keep focus in life: "But yeah, I would definitely say just, like, avoid boys at all costs if you want to be focused on something."
Post source: Female First