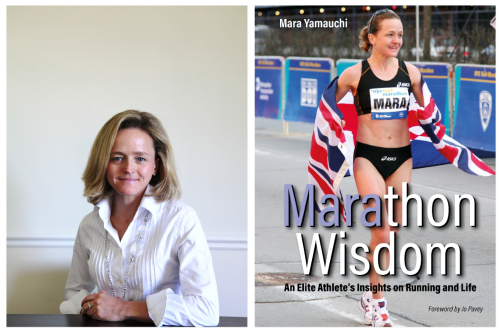 If you are female and want to run a marathon, there are thousands of races all over the world to choose from. The only real challenge you face is training and preparing for it. But until relatively recently, this was not the case, because women were not allowed to run it. The marathon was an exclusively male event.
One of the women who changed all that was Joyce Smith MBE, the marathon runner I most admire. Born Joyce Byatt on 26 October 1937 in Stoke Newington, Smith (now 84) was a formidable athlete over several decades. Coached by her husband Bryan, she built up a glittering athlete's CV to rival that of any athletics star: a world record over 3000m in 1971, World Cross Country Champion in 1972, winner of the first two London Marathons in 1981 and 1982, both in British records (the latter at age 44 – still the record for the oldest winner), winner of the first two Tokyo Marathons, and an Olympian over 1500m in 1972 in Munich and in the inaugural women's Olympic marathon in Los Angeles in 1984.
But above all that, Smith was a pioneer of women's running, especially the women's marathon. She started running competitively in the 1950s, when the longest distance open to women was the 800m. Women were expected to be housewives at home, not supreme athletes! Together she and Bryan worked during the 1970s on founding the ground-breaking Avon International Marathon races for women, which were the first elite women-only marathon races held anywhere. Smith duly went and won the second edition in 1979. These races were key to persuading the IOC to introduce a marathon for women in the Olympics. Naturally Smith was on the start line in Los Angeles, at age 46, finishing in eleventh place.
On that day in Oxford, England, was a small, sports-mad 11-year old girl called Mara. Awe-struck by the glitz and glamour of the Olympics on the other side of the world, I decided from that moment that I wanted to be a top athlete, like Smith. It took me a long time – 24 years – until I stood on the start line of an Olympic marathon, in Beijing in 2008. I finished sixth, coincidentally the same position as Smith's team-mate, Priscilla Welch, in 1984 – the two of us still the joint best British performers in the women's Olympic marathon. Like Smith, I also raced the London and Tokyo Marathons several times, though unlike her, I never managed to win them! Whenever I have stood on the start line of a marathon, I am acutely aware, and thankful, to Smith for leading the way and showing that women could race and excel at the marathon. Generations of female athletes who have followed in her
footsteps, including myself, owe her a huge debt of gratitude. Despite all the gains we have made, the future of women's sport often feels fragile. The contribution that Smith and her husband Bryan made to women's running cannot be overstated.
Mara Yamauchi's debut book, Marathon Wisdom: An Elite Athlete's Insights Into Running and Life is released this month and is available through all good bookstores and online retailers.
Daley Thompson CBE, Olympic decathlon champion has said: "Mara's book is about making the most of what you've got, discipline, having faith in yourself and learning, principally about who you are… A lovely template for success in any walk of life."
Post source: Female First