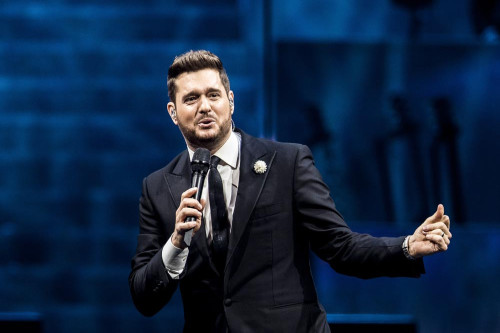 Michael Buble feels like a 17 year old.
The 47-year-old singer – who has Noah, nine, Elias, seven, Vida, four, and five-month-old Cielo with wife Luisana Lopilato – is used to people assuming he's an old soul, but he admitted he's really quite immature.
He told Red magazine: "People think I'm 70 on the inside but I'm more like a 17 year old. That's my maturity level."
The Canadian crooner loves the fact his lengthy career has meant people of different age groups think of him in different ways, but the interactions he has in public have left his brood confused.
He said: "It's interesting when I meet people walking down the street. One person will say, 'You're the Sinatra of our generation!', some teenagers wills tart singing, 'Haven't Met You Yet', and then someone else will yell, 'Oh my God, it's Mr. Christmas!'
"Can you imagine how weird it is for my kids – they're just standing there thinking, 'Who the f*** is my dad?' "
The 'Home' hitmaker is a "maverick" and teased he's heading in a new musical direction in the future – even though he is aware he could "alienate" his old fan base.
He said: "I'm a maverick. I don't know where I belong and that works for me. But the vision has always been to show growth, however alienating that might be to people who liked me in the first place. That's coming.
"I can't tell you the exact projects, but you'll know soon enough."
He then quipped: "Anyway, I'm 17 right? I've got tons of time."
Post source: Female First