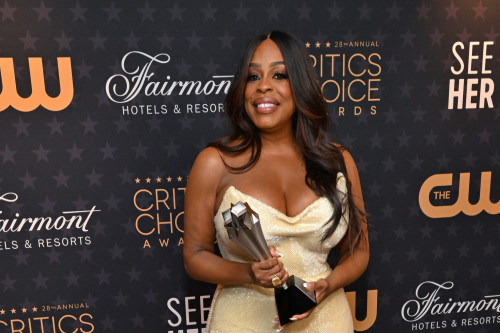 Niecy Nash gets bombarded with requests for therapy sessions.
The 53-year-old actress features in the TV series 'Never Have I Ever' as therapist Dr. Jamie Ryan and admits that fans are unable to separate fiction from reality.
Niecy told Entertainment Tonight: "Oh, let me tell you something, everybody wants it. They're all in my DMs, asking me what I think. I said, 'Listen, I play a therapist on TV. Everybody relax.'
"Here's the thing, I go to therapy so I do have a lot of sound advice. But I think, you know, sometimes people really think I'm the Dr. Ryan of it all, and I'm not!"
The fourth and final season of the Netflix comedy-drama – which has been praised for its representation of the South Asian community- premieres next week and Niecy has really enjoyed working with her fellow cast members.
The 'Reno 911!' star said: "Oh my God. It was like the ultimate melting pot. And the good thing about it is that, because the casting was so beautiful, the relationships didn't seem forced. You know what I mean? You believe this group were really friends and I love that."
Niecy also revealed that she would tell her younger self not to stress about her weight if she had the chance.
She said: "'You know, my cheerleader's sweater had 'Big Mama' on it because I always the biggest one. In some circles I still am, but I still have a great life and, you know, eventually thick is going to be in. Don't worry about it, because, see, when I was thick it wasn't in. It wasn't. It was a fad, but hold on. Your time is coming.'
"That's what I would tell my younger self."
Post source: Female First