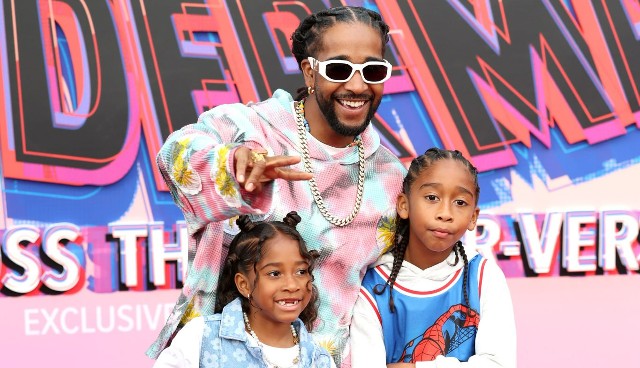 Omarion, along with his kids A'mei Kazuko Grandberry and Megaa Omari Grandberry, attended the highly anticipated world premiere of "Spider-Man: Across The Spider-Verse" at Regency Village Theatre in Los Angeles, California on May 30, 2023.
During a recent interview with VIBE., Omarion shared his thoughts on co-parenting with Apryl Jones, the mother of his children.
"It's always difficult when you share something like children together with a person. I think that for me and my journey, especially in the relationship field, I realized a lot about my style and what I needed as far as support for my life," the celebrity father said.
"And because we were so very young, and saw that differently — and not to generalize women — but you know sometimes women think that love stories are supposed to have this happy ending," Omarion revealed. "I will say we have been moving towards a better relationship at this particular point in time, for the kids," the recording artist said.
"It's all good," Omarion continued. "It was just something we went through. I think as long as respect is over-stood and appreciated within the scope of the blended family then I think you can virtually get through anything."
In the upcoming installment of the Oscar®-winning Spider-Verse saga, "Spider-Man™: Across the Spider-Verse," Miles Morales takes center stage once again. After reuniting with Gwen Stacy, the full-time, friendly neighborhood Spider-Man from Brooklyn is thrust into the Multiverse, where he encounters the Spider Society—an elite team of Spider-People tasked with safeguarding the Multiverse's existence.
However, when differing opinions arise regarding how to handle a new threat, Miles finds himself at odds with his fellow Spiders and embarks on a solo mission to protect his loved ones. This film champions the idea that anyone can wear the mask, emphasizing that it's how one wears it that defines a true hero. "Spider-Man: Across the Spider-Verse" is set to be released on June 2nd.
Photos: Getty Images