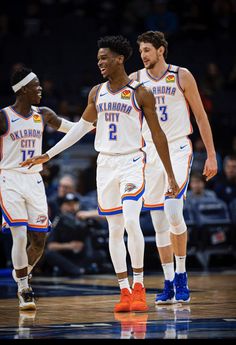 Let's look at " Shai Gilgeous And Hailey Summers: When Did They Start Dating?" Shaivonte Aician Gilgeous-Alexander, also known by his initials SGA, is a Canadian professional basketball player for the Oklahoma City Thunder of the NBA. He also played college basketball for the Kentucky Wildcats for a year.
Shai Gilgeous-Alexander has gotten a lot of attention this season. After emerging as a borderline superstar with the Thunder this season, SGA has stunned observers with his remarkable display of offensive talent.
In his personal life, Shai has been dating Hailey Summers, a stunning woman, for the past six years. Continue reading to learn about SGA's love life and who his girlfriend, Hailey, is.
Shai And Hailey: When Did They Start Dating
Shai and Hailey have been together since 2016. At that time, they were both in high school. Hailey went to St. Mary's, but Shai went to St. Thomas Moore Catholic Secondary School. As of 2022, they have been together for six years.
Despite being traded twice in his career and having to relocate from Los Angeles to Oklahoma, Shai has found time to meet the woman he truly loves.
Hailey and Shai aren't afraid to flaunt their affection in public. They openly share photos of themselves on their respective social media accounts.
Meet Hailey Summers, Shai Gilgeous-Alexander Girlfriend
Hailey Summers is a Canadian soccer player who is on the soccer team at the University of Albany. She was born and raised in Ontario, Canada, and went to St. Mary Catholic Secondary School. Hailey helped her high school's soccer and football teams win several city titles. In fact, she also played basketball in high school and won some city championships.
But she kept playing soccer after she graduated from high school. Hailey is a defender on the Women's Soccer team at the University of Albany. In 2017, she started playing on UAlbany's soccer team 17 times and had one assist. The following year, she made 23 appearances, which included 22 starts.
During the 2020-21 season, she was named to the second team of USC Scholar All-Atlantic, the first team of America East All-Conference, and the all-academic team of America East.
Meet Shai And Hailey Summers On Instagram
SGM and Hailey both are quite active on social media platforms. Shai Gilgeous-Alexander can be found on Instgram under the username @shai, where he has amassed a large number of followers. As of now, he has 1.2 million followers. He keep updating his account on the regular basis by posting photos of himself and also with his girlfriend.
Last montg, Shai posted a birthday post for his GF on Instagram and captioned it, "Happy bday miss put it on … love u 4ever
"
On the other hand, Hailey Summers is available on Instagram under the handle @haileysummerss. She has boost 29.7k followers as of now. She also keep posting pictures with his loving boyfriend, Shai.