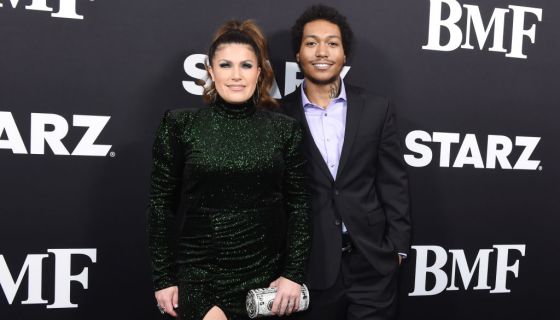 BMF's steamy season 2, including DeMEATrius Flenory Jr.'s (Lil Meech) nude scene, was deliberately "for the culture."
Turning up the heat in every way was part of the plan. Showrunner Heather Zuhlke reveals there was an intentional decision to "sexualize Black men," Variety reports.
In the scene that had Twitterverse clutching its pearls and fanning sweat beads from its temples, the BMF star reveals what the innanet is calling "the real Big Meech" in a frontal nudity scene.
As previously reported, BMF gives us an eyeful when a skripper strokes his gigantic jimmy in a jaw-dropping encounter. Some fans aren't buying that the beefcake actually belongs to Lil Meech, though. They speculate that it was movie magic and a prosthetic.
The Showrunners Wanted To "Sexualize" Big Meech And See Him In His "Full Glory"
Zuhlke, who stepped up as showrunner in Randy Huggins' absence, told Variety,
"Randy and I had talked in depth about it. We really wanted to sexualize black men" she said. You're often seeing white penises on TV. That's what we've seen traditionally."

Zuhlke continued, "So, Randy's plan was to be a big moment for the culture. It's always been told through one very specific lens. And the legend of Big Meech, we wanted to pay honor to him and we knew it was just an important thing to do."
The exec says she was not present when Randy spoke to Lil' Meech about the scene,
"That was a big conversation that Randy and I had. I wasn't part of his conversation with little Meech when that all came about, but just wanting to see that strong, powerful, beautiful, full glory — that was it."
Twitter users used those descriptors and more when mentioning Lil Meech's third leg.
Zuhlke previously wrote an episode of Power with a nude scene that the New York Times penned a story about. This think-piece inspired her to push the boundaries with 'BMF'.
"I had written up an episode of Season 3 of Power. I wrote the episode when they showed Kanaan's member. And there was a, I believe it was a New York Times editorial, that I had shared with Randy, how that was an important moment for the culture and that we don't get to see that usually on TV. So that was an extension of that.
BMF Fans Can Expect For New Faces And New Places For Season 3
When asked what can be expected in Season 3, the television vet revealed,
"What you're going to see is the fallout and somatically all of our characters are in a season of reinvention across the board – Charles, Lucille, Meech, Terry, Bryant (Steve Harris) and Jin. There's consequences to all these things. So you're going to see all of that dramatized moving forward."
The showrunner also says the new season will also explore  "addiction because everyone has a different bias", but she wouldn't reveal what would happen to the character, Lamar. She said, "That's definitely a spoiler that I don't want to speak to."
Season 2's theme was to "elevate, elevate, elevate," and Season 3 will continue to up the ante with many new characters as Meech builds a new team in Atlanta.
"We have a lot of new faces this season, which is really exciting," Zuhlke shares. "We've cast Ne-Yo, we've cast 2Chainz who are just a delight on set and had so much fun and flavor. That's been really fun to work with them. She added, I just can't wait for the world to meet all the the new characters because we're expanding the world."
Fans are hoping they will continue to expand Lil' Meech's sex scenes in hopes that his lil' friend will make another guest appearance.
Do you think the nude scene was a "great moment for the culture" and truly expressed the beauty of Black men in an unconventional way?


Post source: Bossip