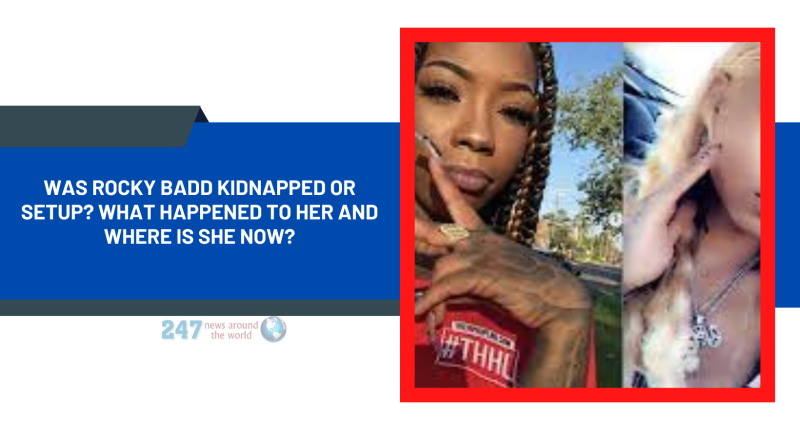 Find out "Was Rocky Badd Kidnapped Or Setup?" Is it true that the Detroit rapper was abducted, beaten, and brutally locked in a dog cage?
Her hits include What You Want, Gone, and Make it Back, which made her famous worldwide.
The female rapper began her music career in 2016 by releasing songs on SoundCloud, which she later uploaded to YouTube.
She ignites her fans with her smile, and her fiery personality inspires youths. Her raps and young zeal have grown her fan base.
Since her first project, Rocky has released a few songs that have gained tens of thousands of views.
Several years ago, news circulated that she was abducted and beaten severely. Moreover, she was locked in a dog cage, allegedly.
In addition, rumors suggested that rapper Cuban Doll was involved in the hideous act. Is it all true, or is it just a hoax?
Was Rocky Badd Kidnapped Or Setup? What Happened To Her?
In January 2018, Dallas rapper Cuban Doll and Detroit rapper Rocky Badd had a violent incident. Cuban Doll was once a social media star who had serious beef with the Detroit rapper. Allegedly, their violent encounter in the past led to an ugly crime.
Capitol Music Group even fired Cuban Doll due to the argument resulting in an incident.
Detroit rapper Rocky Badd, shortly Rocky B claimed that she won the rap battle (more like diss) in a 20-minute video that she released.
Eventually, Cuban Doll replied, and they began uploading diss tracks that were critical of one another.
During that time, Cuban Doll's then-boyfriend and rapper Tadoe severely beat her, as noted by All Hip Hop. It happened in May 2018, and Rocky Badd didn't waste her time making fun of it.
Allegedly, Rocky mocked Doll first, and later, Doll took retaliation to the next level.
According to the social media post, Doll set up a fake event to invite Badd. Then, they forcefully walked her into an alley, kidnapping and beating her.
Also, the group robbed Badd's chain and other valuable belongings. Allegedly, Cuban hired some men to execute the hideous act in Cali.
Moreover, Badd's manager, Lando Bando, was there to witness the act, and the gang also severely attacked him.
We request our readers about the worse part to come as some Cuban Doll associates put the Detroit rapper in a dog cage. They shot pictures of Badd inside a dog cage, sharing them on The Shade Room Teens' Instagram account.
Where Is Rocky Badd Now?
As a matter of fact, Detroit rapper Badd faced many ups and downs in her life. She has seen and tolerated everything from being abducted to being kept in a dog cage.
Fortunately, the female rapper is now recovered and healthy. She is happily pursuing her musical career. Her fans can't keep calm to wait for her new singles.
A fact-check confirmed that Cuban Doll and Cali-based rapper Stunna Girl are related and involved with each other to abduct Rocky.
Badd's kidnapping case raised a question about Stunna being the mastermind behind the whole incident as she shared a good bond with Cuban Doll then.
In 2023, Badd is focused on her musical endeavors, and we wish her all the best for her upcoming projects.
See Also: 10 Health Benefits of Cucumber And Carrot During Pregnancy
Continue to check our website for more articles of this kind. And, please use our comment section as well, we would love to hear from you.