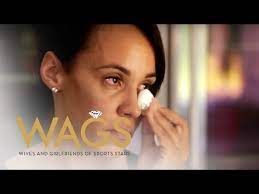 Find out "Why Did Ashley North And Dashon Goldson Postpone Their Wedding?" Ashley North and Dashon Goldson have been together for 15 years. Ashley and Dashon are engaged but have postponed the wedding.
Fans may easily recognize the pair from their appearance in the popular reality documentary television series WAGS. The series's name is an acronym for sports stars' wives and girlfriends. It features a cast of women connected with pro athletes.
WAGS fans often wonder if the show's couples are still together -especially regarding celebrity stylist Ashley and her fiance, Dashon. The athlete has previously stirred up a lot of drama in the show's early seasons.
The football athlete has already put a dazzling ring on his long-time partner's finger but does it signify their marriage, or is it just an engagement ring? Are Ashley and Dashon from WAGS still together? Their marriage plans?
Are Ashley North And Dashon Goldson Still Together?
Ashley North and her fiance, Dashon Goldson, are still together. The pair appears to be doing well and enjoying life to the fullest with their kids.
The dashing Datson is a former American football safety in the NFL (National Football League). He played collegiately at the University of Washington and was selected in the fourth round of the 2007 NFL Draft by the San Francisco 49ers.
Yet, North is arguably the breadwinner in the household. She is a renowned celebrity stylist and men's style expert. She and her business partner Maya Fox Davis have been running their "M&A Style" styling business since 2006.
Besides co-owning her celeb styling gig, Ashley has been a longtime WAGS star. Her beloved father was also a pro athlete, MLB player Bill North. Her dad had advised her not to date a pro athlete, but visibly, she did not take his advice.
Ashley has been dating the man for over 15 years; they share two daughters, they're engaged, and the family lives together, but Goldson refuses to set a date for their wedding. She previously shared that this made her somewhat of "a pariah" in the women's circle.
Back in 2015, her mother, Pam, a professional sports wife, made an appearance on the reality show, trying to comfort her daughter. In the episode, North revealed to her mother that she needed the wedding to feel like a real family.
So, did Goldson finally put a wedding ring on it? Going through their social media, the pair seems to be in a growing family. They have two beautiful daughters, and both parents often share loving pictures of them on their Instagram.
Ashley And Dashon Kids
Ashley and Dashon enjoy a prosperous life together with their beautiful daughters, Charly Goldson and Chayce Alaia Goldson.
The pair welcomed their first daughter, Carly, in March 2011. She celebrated her tenth birthday this year. The second and youngest addition to the family, Chayce, arrived on July 13, 2016 -she is six years old.
Fans can easily find cute pictures of these two little angels on their parents' Instagram handles. Their IG feed is full of adorable photos of themselves with their kids. They are often spotted spending quality time with each other.
Ashley never hesitates to mark special moments for her daughters. Whether it is their first day of school or a day outing, or their birthday, she always comes up with joyous pictures of herself with them on Instagram.
Most recently, Ashley shared a Halloween picture of herself with her daughter. Both were dressed in beautiful Halloween outfits, as the stylist captioned, "When your daughter tells you she wants to be Cher for Halloween without even knowing it's your favorite movie of all time."
Why Did Ashley North And Dashon Goldson Postpone Their Wedding?
Ashley North's fiance, Dashon Goldson, has postponed their wedding plan indefinitely.
The stylist was heartbroken with his decision, but she decided to take her relationship even further.
Soon after their engagement, Ashley had already started preparing for their wedding. Like any other woman, the WAGS star was excited that she would get married to the love of her life and live with her kids and husband.
However, she was disappointed when Goldson postponed the whole wedding thing. Perhaps, the pro athlete got nervous or wanted to wait for the right time to walk down the aisle with his love.
Though Dashon delayed the wedding in 2015, he has not set any dates until now and has also not shared his plans for marriage. However, Ashley has been taking things easy -she is a proud mother of two, and her responsibilities have increased.
After the delayed wedding, the pair have gotten slower to think about getting married as no news has surfaced. It's pretty unpredictable whether the team has plans to tie the knot. However, Ashley has always been vocal regarding the long wait for Dashon to marry her.
They often post their moments on their Instagram and express their love and adoration. As the parents of two, Ashley and Dashon are also taking care of their daughters. Although they have not been a family legally, they regularly share their pictures on IG with a caption stating "family."
Ashley and Dashon have an unbreakable bond as they continue to grow together even after their wedding plans were postponed for an uncertain time. No extra effort to destroy their bonding looks is needed, and fans hope to see them walking down the aisle soon.