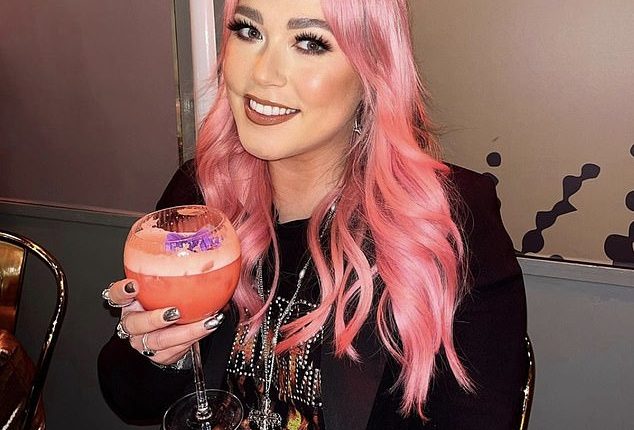 X Factor star Amelia Lily revealed she has been suffering from a debilitating seven-year health issue as she begged her fans for help. 
The You Bring Me Joy songstress, who is now 28, auditioned for the ITV show when she was just 16 years old, eventually coming third place in the 2011 series behind chart-toppers Little Mix. 
Since, she has bagged a £500k record deal with Sony, performed on the West End and starred in reality TV shows such as Celebrity Big Brother and Geordie Shore. 
Taking to her Instagram story on Tuesday, Amelia revealed she has secretly been struggling with a health issue, which keeps her 'awake all night.'
The pink-haired star wrote: 'I've been suffering from a shoulder injury now since 2016 and it's got worse and worse.
Secret struggle: X Factor star Amelia Lily revealed she has been suffering from a debilitating seven-year health issue as she begged her fans for help
Young fame: Amelia, now 28, auditioned for the X Factor when she was just 16 (pictured at the Live Final with Kelly Rowland in 2011)
'Had sports massages, acupuncture, I've had scans and X-rays and was diagnosed with a problem but my only options were physio, steroid injections and pain killers.
'And even the steroid injections won't stop the ongoing problem apparently. The pain literally keeps me awake all night sometimes.'
Amelia then begged for followers for any advice they may have as she continued: 'Can anybody at all with a similar problem please recommend anything? Literally any help would be massively appreciated.'
It comes after she said she 'owes her life' to the X-Factor, after a number of other stars spoke out about their difficult experiences on the show. 
The singer revealed she was 'so grateful' to have reached third place in the talent show's 2011 series and finds it 'totally bizarre' to hear opposing experiences.
Amelia said in an exclusive interview with MailOnline: 'I've just done a BBC Sounds podcast about all of this, and for me it was really interesting to hear other people's stories, some better than others, obviously.
'Some had quite a traumatic experience on the show. For me, I had a great time on the show and I owe my life to the show. I bought my house because of The X Factor.
'I feel like I was so young and just so grateful to be there. But obviously when I did host the podcast, it was interesting to hear other people's stories and the dynamic was just totally… just bizarre.
Reaching out: Amelia asked her fans for advice after not finding a solution to her injury
Last September, BBC Sounds announced a podcast series hosted by Amelia, called The Talent Factory: Inside The Music Machine.
In the show, the You Bring Me Joy songstress explored the impact of talent shows on both the music industry and the aspiring artists who took part.
The X Factor ran from 2004 until 2018 with a variety of judges overseeing wannabes as they battled it out for a coveted record contract.
Although the competition had launched a host of successful careers, including those of One Direction, Little Mix and Olly Murs, some former contestants, including Rebecca Ferguson, Cher Lloyd, Jedward and Katie Waissell, have called out the treatment they received on the show.
Throughout the course of the singing competition, Katie, of the 2010 series, said she received acid attack and death threats, and suffered both panic attacks and suicidal thoughts.
The former contestant also said she has since sought therapy for post-traumatic stress disorder following her time on the show.
After re-training in law, Katie said she is suing Simon Cowell's Syco Entertainment, the production company behind the talent show, for breach of duty of care. 
Truth: Amelia (pictured last month) previously told MailOnline she 'owes her life' to the X Factor, which has meant she could afford to buy her house