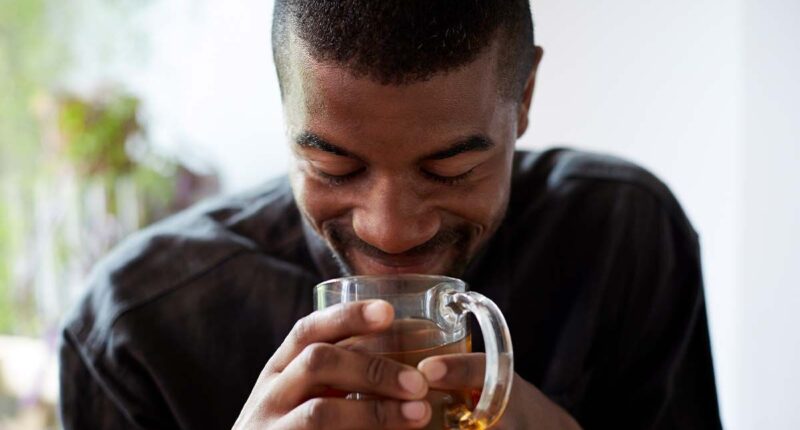 Untreated high cholesterol can make your arteries stiffer and narrower, hiking your risk of serious health problems, including heart disease and strokes.
This volatile nature of the fatty substance makes keeping the culprit in check crucial.
While drinking yourself to lower cholesterol might sound too good to be true, an expert has shared it might just work if you stick to two types of tea.
Chemist and Tea Researcher, Dr Tim Bond, from the Tea Advisory Panel, said: "As we mark International Tea Day, almost 85 percent of us are missing the sweet spot when it comes to the ideal number of cups of tea to consume in a day, to reap the many health benefits of a cuppa, including the ability for both black and green tea to reduce cholesterol. 
"Several studies have shown black tea in particular with or without milk to help lower risk factors for cardiovascular disease, including cholesterol."
READ MORE: The eight-week diet that could make you up to 11 years younger, according to researchers
For example, a systematic review of 11 trials, published in The Cochrane Library, found that both black tea and green tea reduced LDL cholesterol. 
LDL, also known as "bad" cholesterol, is the culprit responsible for laying the groundwork to further health problems.
There's also "good" cholesterol, which can help absorb the bad type from the blood and carry it back to the liver, where it gets flushed out of the body.
Dr Bond said: "Tea is believed to lower cholesterol due to its content of catechins, which are antioxidants. 
"Catechins increase the LDL receptors increasing the uptake of LDL cholesterol from the blood."
What's more, the beloved hot beverages could see your levels of cholesterol fall in as little as 12 weeks.
A study, published in the journal Preventive Medicine showed reductions in LDL/HDL cholesterol ratio during this time.
The participants drank either 200 millilitres of black tea or plain hot water three times per day to assess the effects, with the staple beverage showing the promising reduction.
According to Dr Bond, around two to three cups of tea a day with or without milk should be enough to do the trick.
He added: "However, from a real-world research poll that has just been published, almost 85 percent of us are missing the health sweet spot when it comes to the ideal number of cups of tea to consume in a day.
"Research suggests that the ideal daily amount of tea to drink for a healthy heart is in the range of four to five cups a day."
The expert added that by lowering your cholesterol you could also minimise your risk of heart disease developing.


Post source: Daily Express