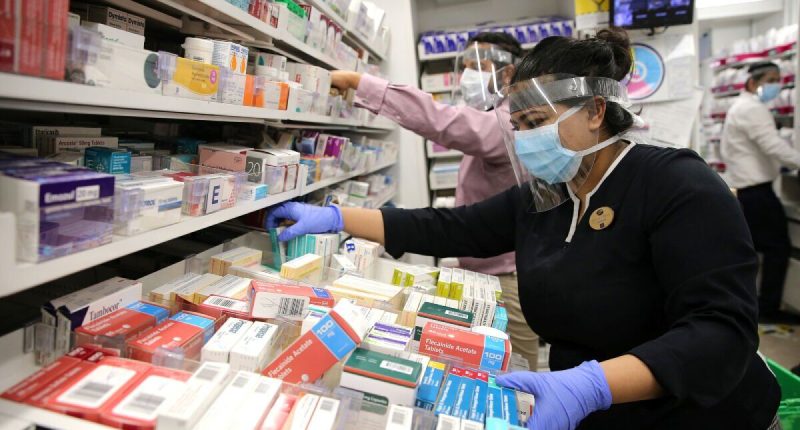 The public would welcome a drive to have pharmacies as the first point of contact with the NHS as they trust the service, a survey has revealed. Some 68 per cent felt it was easier to seek advice for common ailments, such as skin conditions or indigestion, at a chemist than through their GP. And three-quarters want ­pharmacies to offer more services, such as treatment for urinary tract infections or sore throats.
The Pharmaceutical Services Negotiating Committee commissioned the YouGov poll of 1,774 adults in England.
Chief executive Janet Morrison told the Daily Express: "The public recognises the important work that pharmacies do to provide advice and support and they demand an enhanced service.
"Community pharmacies are able and willing to provide so much more in terms of additional health services, helping to free up the backlog of GP appointments and support people with a range of conditions.
"However, pharmacy funding levels – which have reduced by 30 per cent since 2015 – mean they're operating with one hand tied behind their back."
The scheme has been successful in Scotland but has not been properly implemented in England due to lack of funding, sector leaders said.
They warned that asking patients to go to pharmacies to take the strain off other parts of the ailing health service was not sustainable unless chemists were given extra cash to expand their services and grow capacity.
Ms Morrison said the cost of an effective Pharmacy First drive would depend on what services were provided, but at least ­£400million was needed initially.
She added: "Activity levels would need to be audited to ensure funding keeps pace as demand grows. Previous research has shown that investment in the community pharmacy sector leads to ­significant cash and wider benefits to the NHS, public sector, patients and wider society."
The PSNC ­estimated that once the approach was established, the number of consultations where pharmacists offer advice to the public would rise from 65 million per year to 86 million.
This could reduce demand on GP surgeries and hospitals, allowing them to focus on clearing the backlog of millions waiting for care delayed by the pandemic.
The PSNC is part of a coalition of industry bodies which have launched the Save Our Pharmacies campaign to highlight their ­sector's decline.
At least 720 community pharmacies have closed since 2015, according to the Company Chemists' Association. Andrew Lane, chair of the National Pharmacy Association, said: "Pharmacies offer highly accessible healthcare and it's clear that people want our help more than ever, given the NHS backlog and long waits to see a GP.
"Fresh investment by government would help pharmacies take their NHS service offering to the next level and transform people's experience of primary care."
A Department of Health and Social Care spokesperson said: "Community pharmacies play a vital role in supporting the NHS and we back them with £2.6billion a year. On top of this, we have announced a further £100million investment in the sector.
"Over the next 18 months we will be increasing the support pharmacists can provide."
'Pressure is intense…we need urgent help'
Pharmacist Fin McCaul says pressure on services is the most intense he has seen in his 35-year career.
He blames rising operational costs, declining funding, increasing demand and staff and drug shortages.
Fin said: "This combination of pressures will be the death knell for many pharmacies.
"We need urgent funding from the Government to help us survive.
"Without that, local communities like mine could fast become pharmacy deserts, which would negatively impact access to prescription medicines and care."
Fin, the managing director of Prestwich Pharmacy in Manchester, said problems with reimbursement meant stores were often left out of pocket for medicines they dispense for the NHS.
He said: "Pharmacies' finances are in a dreadful state – we rely on the NHS and Government for some 90 per cent of our income but they keep reducing our funding in real terms while our costs spiral out of control."


Post source: Daily Express