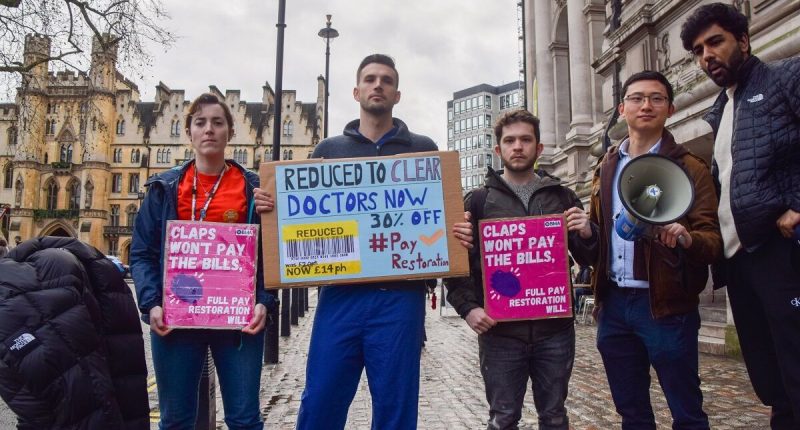 A junior doctors' strike next week will unleash the most severe healthcare disruption yet, delaying treatment for thousands, NHS bosses have warned. Medics are staging a 72-hour walkout from Monday, after more than 36,000 members of the British Medical Association (BMA) voted in favour of industrial action.
They have blamed a 26 percent real-term pay cut since 2008 – while the BMA called a recommended 3.5 percent uplift for NHS staff next year "insulting".
Talks between BMA representatives and the Health Secretary have so far failed to break the deadlock.
No derogations – exemptions from strike action for vital services – had been agreed at a national level, NHS England said on Friday night.
NHS medical director Professor Sir Stephen Powis said: "While we are doing what we can to avoid rescheduling appointments, there's no doubt that disruption will be much more severe than before. Patients who have been waiting for some time will face postponements across many treatment areas.
"Where there are postponements, we'll be trying to re-book as quickly as possible.
"However, it is vital to attend planned appointments unless told otherwise."
There are around 61,000 junior doctors in England and they account for around half the medical workforce.
Of the 37,000 who voted, 98 percent wanted industrial action.
Their protest follows months of strikes by nurses, ambulance workers and physiotherapists.
Almost 142,000 appointments and procedures have been postponed as a result.
Sir Stephen urged the public to only call 999 or visit A&E during the strike period when there is an immediate threat to life.
He explained: "We have no option but to prioritise emergency and critical care as a matter of patient safety.
"We're asking the public to help us and use 111 online as well as local services like general practice and pharmacies as first points of call, but people should of course always use 999 in a life-threatening emergency."
Matthew Taylor, Chief Executive of the NHS Confederation, said the scale of disruption next week was likely to be "like nothing the NHS has seen since industrial action started last December".
He added: "We are disappointed the government and BMA have failed to put a stop to the forthcoming junior doctors strikes, especially after the positive steps made with the other trade unions. Junior doctors perform a variety of vital roles, and these strikes will hit every NHS trust in the country over a 72-hour period.
"This isn't about finger-pointing: both sides need to show willingness to compromise and bring these strikes to an end without delay."
Meanwhile, some hospital chiefs have expressed concern that both ministers and the public do not fully understand the serious risk of harm the strike will pose, the Health Service Journal reported.
One senior leader said: "There is a widespread fear that we are sleep-walking into this. I assume lots of conversation and action is taking place that we are currently unaware of.
"But we face the real risk that next week will be far more difficult and possibly dangerous than any industrial action so far."
Another added: "Junior doctors are not newly qualified students – they're the backbone of day-to day medical management in our services. I am concerned we might be giving false assurance about the quality of service we can offer next week."


Post source: Daily Express