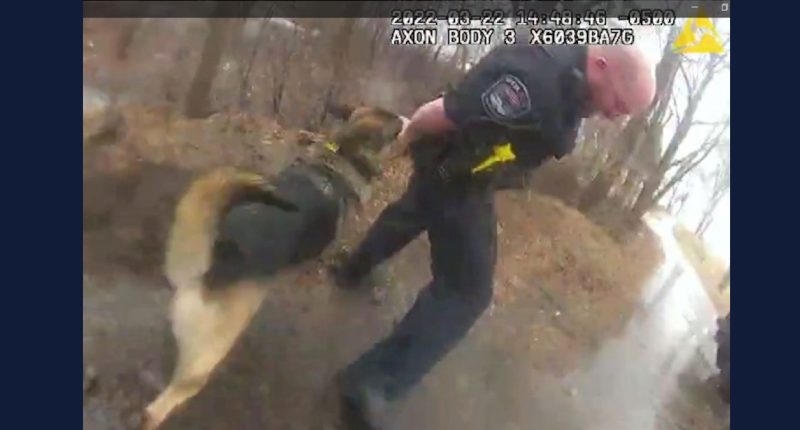 A Minnesota police officer is suing a sheriff's deputy over a dog bite from a police-trained K-9 dog that he said should not have been let off the leash.
Daniel Irish was an officer with the Champlin Police Department in March 2022 when he was called to support Keith McNamara, a Hennepin County Sheriff's deputy, in apprehending a driver who fled a traffic stop. At the time, McNamara was on duty with a K-9 named Thor.
According to the complaint, the suspect fled law enforcement at around 2:30 p.m. on March 22, 2022, losing control of his vehicle near a cemetery before fleeing on foot. Irish notes in the complaint that the cemetery was adjacent to an apartment complex and a special education school on "acres of outdoor space where one would reasonably expect to encounter the general public."
Despite the likely presence of "any number of innocent civilians," Irish says in the complaint, McNamara "deployed Thor off-leash to track and apprehend the suspect" without giving any warning.
"Defendant McNamara knew that releasing Thor off-leash to track and apprehend the suspect would result in Thor biting the first person he encountered," the complaint says.
According to the lawsuit, Thor attacked Irish almost instantly.
"Irish's body-worn camera ('BWC') shows that Thor attacked him the moment Irish opened his Champlin squad car door to pursue the suspect on foot," the complaint says.
"I opened my squad door and attempted to give the suspect commands, and all of a sudden, the Hennepin County K-9 grabbed ahold of my left arm and started to bite," Irish said in his report from that day, according to the complaint. "I was attempting to control the K-9 and give the suspect commands the best that I could while I was getting bite [sic] in the arm and legs."
According to the complaint, body-worn camera footage shows Thor failing to obey McNamara's commands to release Irish.
The suspect, meanwhile, had fled the cemetery and crossed a ravine, making his way toward an apartment complex — although he was eventually apprehended by Thor, who got ahold of the suspect by his leg.
Irish insists in the complaint that McNamara recklessly allowed his canine partner to go after the police officer.
"McNamara intended for Thor to seize the first person he encountered, Thor did seize the first person he encountered, and Irish was that person," the complaint says.
More from Law&Crime: North Carolina cop dangles K-9 officer from leash, bangs dog's body against police SUV
Both the suspect, who was placed under arrest, and Irish were hospitalized, the complaint notes. Irish was given a tetanus shot and antibiotics but later developed a serious skin infection that called for more medication. He was also diagnosed with colitis that, according to medical records, could have resulted from the first antibiotic he was given.
Irish says he missed months of work due to his injuries, the resulting infections, and subsequent long-term effects. He is alleging violations of his Fourth Amendment protections against excessive force and unreasonable seizure and is seeking an undetermined amount of damages covering lost wages, medical expenses, and legal costs, as well as punitive damages.
"McNamara caused Irish's Fourth Amendment rights to be violated by his objectively unreasonable use and deployment of Thor and by his failure to reasonably warn Irish and others before releasing the K9 off-leash to track and apprehend the suspect," the complaint says. "McNamara subjected Irish to these deprivations either maliciously or by acting with reckless disregard for whether his rights would be violated."
A representative for the Champlin Police Department, which is not involved in the case, told Law&Crime that Irish left the department last year.
The Hennepin County Sheriff's Office did not immediately reply to Law&Crime's request for comment.
Read the complaint here.
Have a tip we should know? [email protected]