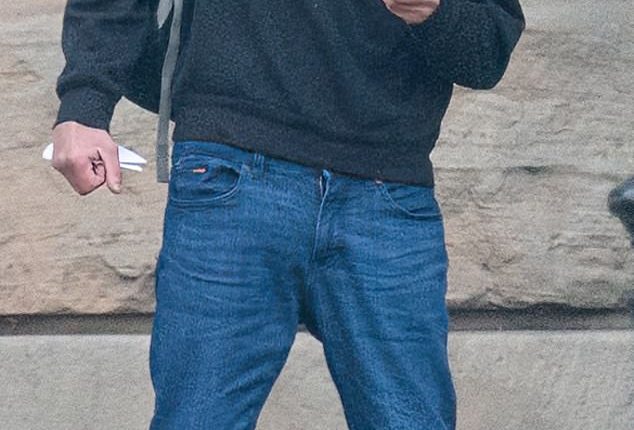 A dopey drug smuggler was caught by police after his £5,000 cargo of American cannabis was forwarded to a Royal Mail sorting office after he missed a delivery slot. 
Gary Patnett, 37, had been expecting his illicit parcel of 'Cali' weed to be delivered to his home after he and his younger sibling ordered it online from a US firm operating legally in California.  
But the hapless father-of-two, nicknamed 'B***end' by his sister, missed the delivery by an unsuspecting courier – and he returned shortly afterwards to find a 'sorry we missed you card' on his doorstep.
Mother-of-one Natasha Patnett then went on a tracking app to find the missing package before her brother went on a frantic mission to their nearest sorting office in Ellesmere Port, Cheshire, in the hope of collecting it.
But police – who had been called to the depot after staff raised the alarm – ambushed Patnett as he arrived on his bike and arrested him.  
Hapless father-of-two Gary Patnett, 37, ordered £5,000 of drugs from the US with his younger sister – but missed its delivery which later led to his arrest. He is pictured grinning outside Chester Crown Court
Mother-of-one Natasha Patnett, 34, had reminded her brother not to 'forget the parcel' in a text to him on the day of the delivery 
When searched, Patnett was found with the 'missed delivery' card in his hand – while his phone had a text message from Natasha, 34, saying: 'Morning B***end, do not forget the parcel.'
At Chester Crown Court, the pair, from Ellesmere Port, pleaded guilty to importation of a class B drug.
Ryan Rothwell, prosecuting, said police were notified by Royal Mail postal workers about the 'suspicious package' on January 29, 2022.
'Inside the package was 225g of fairly high-quality cannabis worth between £3,200 and £5,100. It was contained in 64 packets of what had been branded as Cali Weed,' Mr Rothwell told the court. 
'The package was addressed to where the defendant was staying with his partner at the time. It was addressed to a fictional female, Janet Baker.'
Patnett's phone was seized by police, with officers later finding messages to his sister that proved she was 'involved', the prosecutor added. 
Patnett was was ordered to complete 120 hours of unpaid work along with 20 days of rehabilitative activity with the probation service
'A message received on January 27, the day before, at 2.34pm indicated that she messaged Mr Patnett: "That parcel has been delivered to yours, tracker says, so you need to answer",' Mr Rothwell told the court.
'The message indicated that Miss Patnett was following the delivery of the parcel on a tracker.
'The following day, January 28, at 9.45am, there was another message: 'Morning b*** ends, do not forget the parcel. Not sure if it shuts at 11 or 1 on a Friday.'
'The day after his arrest, Miss Patnett stopped using that number. A search warrant was carried out at her address in March of last year. She was arrested. In interview, both defendants gave no comment to all questions.'
Patnett had two previous convictions, one from 2002 for aggravated vehicle taking and the other from 2018 for travelling on the railway without paying his fare.
His sister had a previous conviction from 2015 for smuggling steroids into prison for which she was given a 12-week suspended prison sentence.
Defending Patnett, Paul Wood said: 'There is genuine remorse. He has stayed out of trouble and he has been addressing a long-standing cocaine addiction. 
Natasha Patnett, pictured, was previously convicted in 2015 for smuggling steroids into prison. She is pictured outside Chester Crown Court
'He has two children aged seven and 12 and stays in contact with them every weekend. On the face of it, he is a responsible father.'
Jonathan Keane, who was defending Patnett's sister, said his client had previously been in an abusive relationship. 
He added: 'Remorse has certainly been advanced in two ways. When she thinks of the impact of her offending on her daughter who she is the sole carer for and she has insight about the impact of drugs on society, given the difficulties her brother suffers with and that she had brushes with in the past.'
Patnett was ordered to complete 120 hours of unpaid work along with 20 days of rehabilitative activity with the probation service. 
Due to her previous conviction, his sister was given 140 hours of unpaid work along with 20 days of rehabilitative activity. She was fined £46 at an earlier hearing for possession of amphetamine.
Sentencing, the judge Recorder David O'Mahony said: 'Gary, the presentence report notes your remorse and refers to your efforts to deal with your habit. You are unemployed but hope to get a job when this matter is dealt with.'
Turning to Patnett's sibling, the judge said: 'Natasha, you say in your pre-sentence report that you were motivated by fear and to assist your brother. 
'You are a full-time mother on benefits but you have worked in the past and want to again in the future. You have used drugs, mainly cannabis, to deal with your mental health but you are remorseful.'
Cali Weed is cannabis that is grown commercially in California, the first state in USA to legalise medical cannabis and one of the first states to legalise the drug for recreational use. 
Due to a strict regulatory and product testing regime, the drug is considered higher quality than that grown illegally in the UK.
Post source: The List