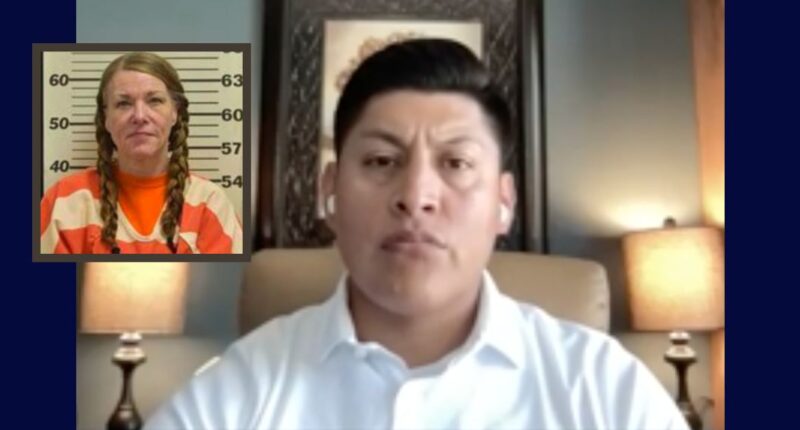 A juror who earlier this month voted to convict Lori Vallow Daybell of murdering two of her children and of conspiracy to murder her current husband's first wife is speaking out in response to a recent motion filed by defense attorneys working on her appeal.
Vallow, 49, and her fifth and current husband, Chad Daybell, 54, were charged with murder over the 2019 deaths of Joshua "JJ" Vallow, 7, and Tylee Ashlyn Ryan, 17. The children disappeared on different dates in September of that year. Vallow was initially arrested in Hawaii in February 2020 on charges of child desertion. Daybell was arrested in June 2020 after the children's bodies were found buried at his property. The two defendants were indicted for the murder of Vallow's children and Daybell's first wife, Tammy Daybell, 49, in May 2021 on multiple counts of murder in the first degree, conspiracy to commit murder in the first degree, and grand theft by deception.
Vallow was convicted on all counts on May 12. Daybell will stand trial on the same charges as his wife at a later date.
In the motion for a new trial filed Friday by attorneys Jim Archibald and John Thomas, the convicted killer's defense team argues a May 17 media interview shows "that the juror relied on information not presented in court" and that "the jury instructions were confusing."
During that interview, East Idaho News Director Nate Eaton asked Saul Hernandez, Juror No. 8, to "describe the efforts of law enforcement." In response, Hernandez said they had generally "a good job with what they had" but pointed out some lapsed work by police in Arizona in response to the murder of Charles Vallow, the murderess' husband, who was shot and killed by her brother Alex Cox.
Cox murdered Vallow's immediately prior husband in Chandler, Arizona, in July 2019 during an alleged dispute. The killer claimed self-defense at the time and was not prosecuted – he later died of natural causes before authorities began to reassess Charles Vallow's death and rebrand it as a homicide. Lori Vallow has long been indicted for conspiracy to murder Charles Vallow in the Grand Canyon State.
"We didn't consider this during our deliberations, because it was clear to us, the instructions were clear, Arizona evidence and testimony is only for demonstrative purposes," Hernandez told Eaton. "And we were all very, very respectful of the rule, the directions that we were given. But now being removed from that, I think the police department in Phoenix had some significant red flags, that had they been followed up on, you know, maybe we're not here."
Eaton then asked the juror whether he was talking about police efforts after the shooting. Hernandez said: "Before and after." The two then agreed that Hernandez is talking about a body-worn camera interview of a very much alive Charles Vallow where he expresses reservations about his wife's mental state and her belief in zombies.
"Charles Vallow's statements to law enforcement were not part of the evidence presented in this case," Archibald and Thomas write in the defense motion. "The juror and the reporter refer to it, but it wasn't presented in court. We can only conclude that the juror relied on information not presented in court to reach his conclusion that Arizona dropped the ball and should have done more, even before Charles Vallow was shot and killed by Alex Cox. The actual recording of this interview can be made available to the court for review."
Eaton conducted a follow-up interview with Hernandez this week. The juror flatly disputed the conclusions reached by Vallow's attorneys.
"Once the verdict was final and we were released from court on Friday (May 12), as you can imagine, most people would have a bunch of questions in their mind," Hernandez told East Idaho News. "On Sunday, my wife said, 'Do you want to watch a new episode (of 'Dateline')?' and I said, 'Cool. Let's watch it.' Obviously, I was intrigued, and that's when I learned in Arizona there's footage from an encounter with Charles where he is clearly telling the police that his wife has deemed him a zombie. To me, those were significant red flags about something that's not normal."
More Law&Crime coverage: 'It was pure evil': Alternate Lori Vallow juror talks about the evidence and who really killed the children
The defense motion also claims that the juror's original interview with Eaton is "a good example" of why certain evidence likely confused jurors.
"The defense continually objected to [this] evidence," the motion notes. "Arizona evidence and testimony was not for demonstrative purposes, as the juror stated and as the reporter agreed, but was evidence to show some other reason other than bad character. The demonstrative evidence allowed in this case was the summary evidence from the law enforcement witnesses. To confuse demonstrative evidence and character evidence is easy to do; hence, the defense objections should have been sustained."
Hernandez also disagreed that any real confusion occurred.
"I thought the judge gave us instructions through the trial, throughout the process, multiple times, and those instructions never changed even up until the very last day before the moment we were released to go and deliberate," the juror told East Idaho News. "Those instructions were clear."
Archibald and Thomas have asked District Judge Steven Boyce for a hearing during which they can present oral arguments. The government will have a chance to respond before any such decision is made.
Hernandez, for his part, doesn't think a new trial is warranted.
"I feel we did a very good job," he told Eaton. "We were fair to the process, we were honest to the process and we didn't render our decision lightly in any of the charges. We took our time when questions came up, we answered them when we needed to take more time, and we took the time because we felt like we wanted to be respectful of the entire process. We knew at the end of the day, whatever decision we came up with, we need to stand by that decision and be okay with it."
Have a tip we should know? [email protected]