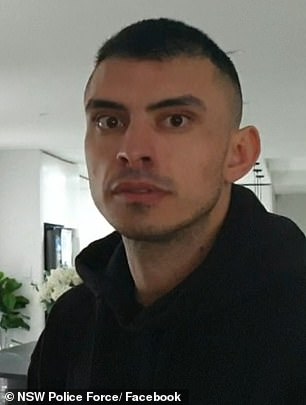 Astonishing moment Australia's most wanted man is found hidden in the hull of a YACHT allegedly trying to escape the country after 'cutting off his ankle bracelet and fleeing Sydney on a private jet'
Mark Horne, 32, has been arrested by NT Police in Darwin
He was allegedly found in the hull of a yacht on Wednesday
Bikie associate allegedly on the run since October 
One of Australia's most wanted men has been found allegedly trying to flee the country by hiding in the hull of a yacht. 
Pictured: Mark Horne, 32, who was arrested by NT Police officers on Wednesday 
Northern Territory Police's Joint Organised Crime Taskforce allegedly found Mark Horne, 32, on the boat as it tried to sail from Cullen Bay Marina in Darwin late on Wednesday afternoon. 
Horne, from NSW, was on bail when he allegedly cut off his electronic monitoring bracelet in October and fled Sydney on a private jet. 
The bikie associate was awaiting trial for the September, 2020 alleged non-fatal shooting of truck driver Leith Carstairs and the theft of $550,000 in Mt Lambie in the Blue Mountains.
His bail conditions included being required to report to police daily, not associate with any Rebels bikies, observe a 9pm curfew, a $50,000 surety and wearing an ankle monitor.
Horne was allegedly found trying to flee the country in the hull of a yacht trying to depart Darwin
Horne also had to surrender his passport, which added to suspicions he was attempting to flee the country. 
He was taken into custody by NT Police and will face an extradition hearing in Darwin on Monday.
Officers also arrested two other men, aged 52 and 43, on the boat. 
NT Police Commander Matt Hollamby said the arrests signified 'excellent work' by the joint taskforce. 
AFP Commander Central Command Erica Merrin praised the quick response and diligent work of the Northern Territory Joint Organised Crime Taskforce investigators.
'This incident demonstrates how organised crime has no borders, and highlights the importance of genuine interagency collaboration to keep our Australian community safe,' Ms Merrin said. 
Police have been searching for Horne since he allegedly went on the run in October 
Advertisement
Post source: The List