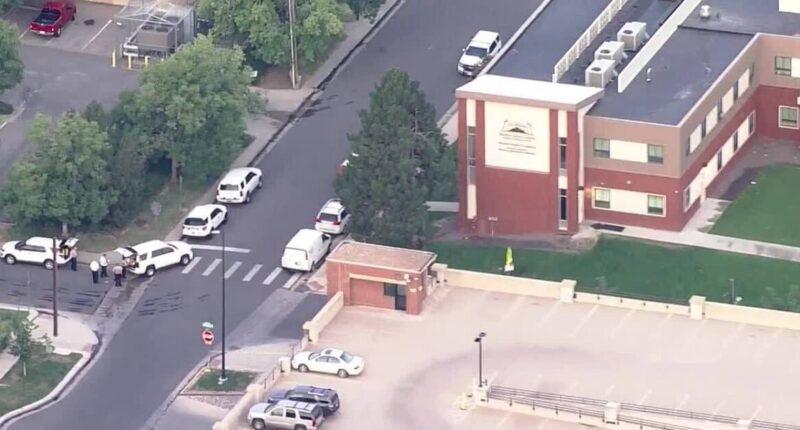 DENVER — Multiple people who pleaded guilty to their participation in a deadly series of crimes across the Denver metro area were sentenced on Wednesday afternoon.
All five convicted suspects — Samuel Robert Fussell, 20, Isaiah Freeman, 20, Noah Loepp-Hall, 21, Seth LaRhode, 22, and Aden Sides, 20 — previously pleaded guilty to the charges against them.
The following were the charges against each person:
Loepp-Hall: second-degree murder, first-degree kidnapping
Sides: first-degree assault with a deadly weapon causing serious bodily injury, kidnapping
Fussell: first-degree assault involving multiple victims, first-degree burglary
Freeman: first-degree assault involving multiple victims, aggravated robbery
LaRhode: second-degree burglary, theft
Loepp-Hall was sentenced to a stipulated prison sentence of 65 years — 48 years for the murder charge and 17 for the kidnapping charge. Sides received a stipulated prison sentence of 41.5 years for both counts against him, which will be served concurrently. Freeman, who was sentenced for three different cases, was sentenced to a stipulated 30-year prison sentence for the August 2021 crime series. He was sentenced to 10 years in prison in two other cases, and will serve those sentences concurrently to the initial case.
Judge A. Bruce Jones said he agreed to the stipulated sentence of 21.5 years for Fussell, but deferred entering it due to reasons he discussed in private with counsel at the bench. He will be officially sentenced on June 30. In addition, the sentencing for LaRhode was continued before the hearing began. He will be sentenced July 21.
Multiple defendants in deadly crime series across Denver area are sentenced to prison
"Each of you contributed to an awful outcome for many people — ultimately, an awful outcome for yourself," Judge Jones said during one of the sentencings.
The string of crimes began on Aug. 15, 2021 and then continued up again on the evening of Aug. 17 into the early hours of Aug. 18, said Denver Deputy District Attorney Kate Horton.
The Aug. 15 events began with aggravated robberies, burglary of a restaurant, and a carjacking and assault of a transient man who was sitting in his car, where he lived.
Around 3:40 a.m. that morning, Loepp-Hall, Fussell, Freeman and LaRhode — Sides was not present for the Aug. 15, 2021 crimes, Horton said — assaulted a man as they looked for a residence to burglarize. Freeman was the person accused of hitting the victim.
The group then went to an apartment complex, where they found a woman and demanded her purse at gunpoint around 4 a.m., Horton said. She gave them her purse because she was afraid she'd be hurt or killed. Horton said while this victim was not in the courtroom, she was affected deeply by the crime and had to leave her job because of fear of being robbed again. She is now looking for work outside of the state and country.
The group then burglarized a restaurant and stole mostly liquor bottles.
Around 4:19 a.m., the four defendants assaulted a transient man who was living in his car outside a fitness facility. They demanded his car keys at gunpoint and when he gave them over, Loepp-Hall shot the man in the chest. The man was able to run away and Loepp-Hall continued to shoot at him, striking his hand, Horton said.
The second series of incidents began around 10 p.m. on Aug. 17, 2021. The group of five defendants burglarized an autoshop, carjacked a victim, and burglarized another auto shop.
Then, police responded to a shooting at 11:10 p.m. along the 1500 block of N. Lafayette near Cheesman Park. One of the suspects fired a round and an injured person, later identified as then-30-year-old Thomas Young, was brought to a hospital. Some of his belongings were stolen, but at the hospital, he told Denver7 that his main concern was if he could ever walk again.
Local News
Denver man left paralyzed after deadly crime spree
4:48 PM, Aug 30, 2021
Young later told investigators that the suspects were very aggressive and were pulling at his pickets to try to find his possessions. He was beaten, thrown to the ground, and kicked in the head. As the group left him, Loepp-Hall shot him in the back.
This permanently paralyzed Young.
A few minutes after that shooting, at 11:35 p.m., Denver police tweeted that they were investigating a shooting along the 1500 block of Stuart Street near Yeshiva Toras Chaim, a Jewish boarding school for boys.
Horton said it is common for students to be awake late at night and wandering around the halls listening to lessons or music. When the defendants pulled up to the school, that's what 18-year-old Shmuel Silverberg was doing. When the victim saw the defendants coming toward him, he ran for the door and entered a code to get inside. Police determined that Loepp-Hall fired 13 times and Sides fired seven times, Horton said.
Silverberg was shot near the cafeteria doors, where students were awake and walking around. The suspects also shot at a rabbi, who ducked behind a door and was not injured, Horton said.
Freeman and Fussell dragged Silverberg and assaulted him. The prosecution said they wanted to get the code to get inside the building, thinking it was an office building and not a school.
Horton said the aftermath of the shooting is hard to explain. She said the end of a surveillance video of the shooting shows other students and teenage friends of Silverberg's doing CPR and trying to save his life.
Silverberg died of his injuries.
Defendant LaRhode did not leave the stolen car during this shooting.
Horton said the five defendants went on to try to steal other cars and didn't appear to show any remorse about the homicide.
Two days later, Denver police announced they had located and arrested four of the five suspects, with the exclusion of Fussell. A reward up to $27,000 was offered for information leading to his apprehension. He was arrested about a week later.
All five pleaded guilty to charges against them. They were sentenced at the same time on Wednesday afternoon.
Multiple victims spoke in court or wrote statements for the prosecution to read. One of the people who was assaulted and shot in both the chest and, as he ran away, his hand, said he was lucky he did not die. He spent nine days in the hospital and had significant hospital bills. He has scars that he has to look at every day.
He said he wouldn't wish his pain on anybody else, adding that he now lives in fear.
Another victim recalled dropping off his ex-wife, who has since died, from cancer treatment and returning to his car to find the suspects around his car. He said she blamed herself for him getting hurt by the defendants.
The victim said he also grew up in an environment where drugs and gangs were common, like many of the defendants. But he said they could have left that path.
"Not everybody who grew up in those environments grew up to be animals like these," he said.
---
The Follow Up
What do you want Denver7 to follow up on? Is there a story, topic or issue you want us to revisit? Let us know with the contact form below.