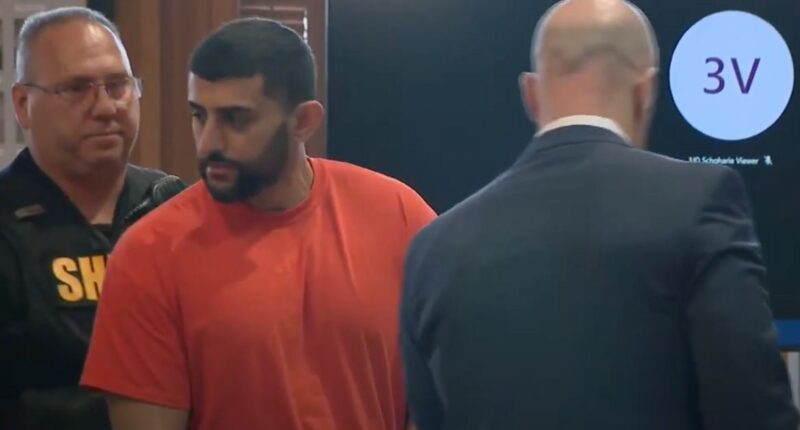 The man responsible for a limousine crash that killed 20 people in upstate New York during a 2018 birthday party outing was sentenced to spend at least five and at most 15 years in prison on Wednesday.
Nauman Hussain, 32, was found guilty by a Schoharie County jury on 20 counts of manslaughter in the second degree – one count for each victim – earlier this month after a five-day-long trial.
Supreme Court Judge Peter Lynch sentenced Hussain, the owner of Prestige Limousine of Wilton, to a 5 to 15-year sentence for each of the 20 counts against him. Each of the counts will run concurrently or at the same time, according to Albany-based CBS affiliate WRGB.
During the sentencing, Lynch methodically repeated the name of each victim who died in the crash, the conviction based on each person's death, and read out the sentence, noting that Hussain's actual time behind bars will be "indeterminate" but within the allotted period.
Relatives of many of the 20 crash victims gave impact statements during his sentencing hearing.
"The limo families look forward to visiting you," Kevin Cushing, father of crash victim Patrick Cushing reportedly told Hussain. He added that "it makes me and my family sick to know a $2,000 brake repair" could have avoided the "catastrophe" that changed the trajectory of so many lives.
The 20 deaths outside the Apple Barrel Store & Cafe marked the worst highway transportation disaster in over a decade in the U.S.
The incident occurred on Oct. 6, 2018, at New York State Routes 30 and 30A. Hussain's company had been hired to take a party of 17 friends from Amsterdam to Cooperstown for Amy Steenburg's 29th birthday celebration at a local brewery.
At the intersection, the limousine's brakes gave way. The large car collided head-on with a Toyota Highlander and then barreled into a ditch. The driver, all 17 passengers and two people standing near the SUV died. Among the dead were sisters, brothers, and married couples.
"October 6, 2018, is the date forever burned into my heart and soul," Bethany King, who lost four family members in the crash, said through tears in comments reported by CBS News. "You have received a justified guilty verdict while the rest of us here have received a life sentence."
Hussain failed to obtain "operating authority" from the New York Department of Transportation after buying the poorly-serviced SUV in 2016, prosecutors argued. Seeking such authority would have subjected the limo to rigorous testing and inspection, the same standards school buses are subjected to in New York. The state argued that if Hussain had gone through that process, the brake problems would have been caught.
The trial itself, however, caught both sides off guard.
In September 2021, Schoharie County District Attorney Susan Mallery and Hussain reached a plea deal on 20 counts of criminally negligent homicide that would have resulted in no jail time. All the manslaughter charges against him were dropped in exchange for the plea. Hussain formally admitted his legal culpability and completed a year of interim probation under the deal and half of an agreed-upon 1,000 community service hours.
Mallery's first choice had always rankled some victims' family members. But eight months ago, well after the judge who oversaw the plea deal retired, his replacement, Lynch, tossed the agreement – calling it illegal. Lynch said he would refuse to abide by those terms during a sentencing hearing. Hussain's defense attorney, Lee Kindlon, sued to enforce the original deal, to no avail.
When the deal was abandoned, Hussain withdrew his guilty plea to avoid the maximum penalty for criminally negligent homicide – which would have been just over one to five years in state prison.
Hussain and Kindlon opted for a trial.
"I am very thankful for Judge Lynch," Mary Ashton, mother of crash victim Michael Ukaj, said following the verdict, WRGB reported. "When my husband called and told me that the probation had been overturned, I pulled over, my arms went up in the air, 'Praise God,' I was so happy, I was so happy. You have no clue what we've gone through, none."
During the sentencing hearing, the defense attorney said they would file an appeal. The defendant did not speak.
"Four years, seven months, and 25 days ago, my life, along with my families and dozens of others, was destroyed because you and Mavis chose to put profit over people," Donna Rivenburg, mother of crash victim Amanda Rivenburg, reportedly said. "There are no winners in this."
The names of those who died in the crash:
Axel J. Steenburg, 29, of Amsterdam; Richard M. Steenburg, 34, of Johnstown; Amy L. Steenburg, 29, of Amsterdam; Allison King, 31, of Ballston Spa; Mary E. Dyson, 33, of Watertown; Robert J. Dyson, 34, of Watertown; Abigail M. Jackson, 34, of Amsterdam; Matthew W. Coons, 27, of Johnstown; Savannah D. Bursese, 24, of Johnstown; Patrick K. Cushing, 31, of Halfmoon; Amanda D. Halse, 26, of Halfmoon; Erin R. McGowan, 34, of Amsterdam; Shane T. McGowan, 30, of Amsterdam; Amanda Rivenberg, 29, of Colonie; Adam G. Jackson, 34, of Amsterdam; Rachael K. Cavosie, 30, of Waterford; Michael C. Ukaj, 33, of Johnstown; Brian Hough, 46, of Moravia, Cayuga County; James Schnurr, 70, of Kerhonkson, Ulster County; and Scott Lisinicchia, 53, Lake George.
Have a tip we should know? [email protected]