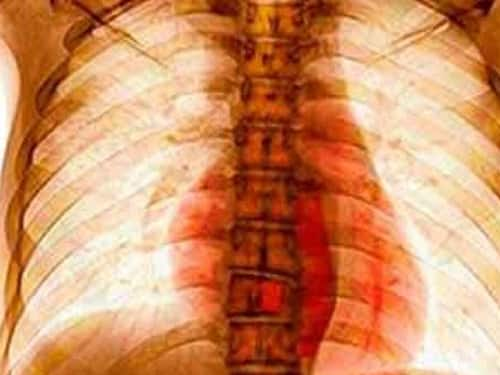 The treatment of bone and spine TB poses unique challenges due to the difficulty in delivering antibiotics to the infected area.
Tuberculosis today remains among the top 15 killer diseases that claims 1.7 million people annually. More than 10 million new cases are registered every year. As per a World Health Organization report, this disease is an infectious killer second only to COVID-19. On the occasion on World TB Day today, the World Health Organization (WHO) has announced the expanded scope of the WHO Director-General's (DG) Flagship Initiative on tuberculosis from 2023 to 2027. This is being done to accelerate the progress towards ending tuberculosis and achieving Universal Health Coverage (UHC) by 2030. Towards this end, the UN General Assembly is also planning to convene three high-level meetings in September this year. The focus of these meetings will be on Universal Health Coverage, pandemic preparedness and response and ending TB.
This year's World TB Day theme is #WeCanEndTB. India's healthcare sector is well aligned with this theme as it is working hard towards fulfilling the dream of Indian Prime Minister Narendra Modi to eliminate TB by 2025. India has brought the global SDGs target to end TB by 2025. In India, tuberculosis is a prevalent infectious disease. According to the WHO Global TB Report 2022, India has an estimated 3 million new TB cases and over half a million TB deaths. Of these cases, bone and spine TB constitute a significant portion, accounting for approximately 1-2% of all TB cases in the country. To get a better understanding of bone and spine TB, we reached out to Dr Vikas Tandon, Sr. Consultant – Spine Surgeon, Indian Spinal Injuries Centre. He shares his views in the following words.
Cause of bone and spine TB
Bone and spine TB, also known as osteoarticular TB, occurs when Mycobacterium tuberculosis bacteria infect the bones and joints. The disease primarily affects the spine, causing a condition called Pott's disease. It can also affect the long bones of the limbs, hip, and knee joints. The incidence of bone and spine TB in India is high, primarily due to the country's large population, poor sanitation, and inadequate access to healthcare. The disease is more prevalent in rural areas, where access to medical care is limited, and people often live in crowded and unhygienic conditions.
TB eradication by 2025: Can it happen?
It is evident that the number of new TB patients declined by 18 per cent between 2015 and 2021 in India but this pace of decline is clearly not enough to end TB by 2025. A case in point is Indian Spinal Injuries Centre where we are witnessing a decline as there were total TB cases were 200 men and 175 women in 2021 whereas it declined in 2022 to 152 men but spiked in women 236 cases. The total number of Spine TB cases in 2021 was 80 (men) and 66 (women). In 2022, while we witnessed a decline in men to 65, however, women cases increased to 94. Similarly, in 2021, there were 10 cases of bone TB in men and 4 women cases. In 2022, total bone TB cases declined to 5 but women cases remained at 4. The trend clearly indicates that women are at higher risk.
Treatment options
Treatment of bone and spine TB in India is similar to that of other TB infections. It involves a combination of antibiotics taken over a period of six to nine months, with some patients requiring surgery for the removal of the affected tissue. The treatment of bone and spine TB poses unique challenges due to the difficulty in delivering antibiotics to the infected area. As a result, doctors often recommend a more extended duration of antibiotic therapy, along with the use of immobilization devices to prevent further damage to the affected bones and joints.
In addition to antibiotic therapy, patients with bone and spine TB may also require nutritional support to promote healing and reduce the risk of further complications. Follow-up care is essential to monitor the patient's response to treatment and identify any adverse reactions to medication.
Bone and spine TB remains a significant public health challenge in India. With improved access to healthcare, sanitation, and public education, the incidence of the disease can be reduced. Early diagnosis and appropriate treatment remain the key to the successful management of bone and spine TB in India.
Total Wellness is now just a click away.
Follow us on




Post source: The Health Site