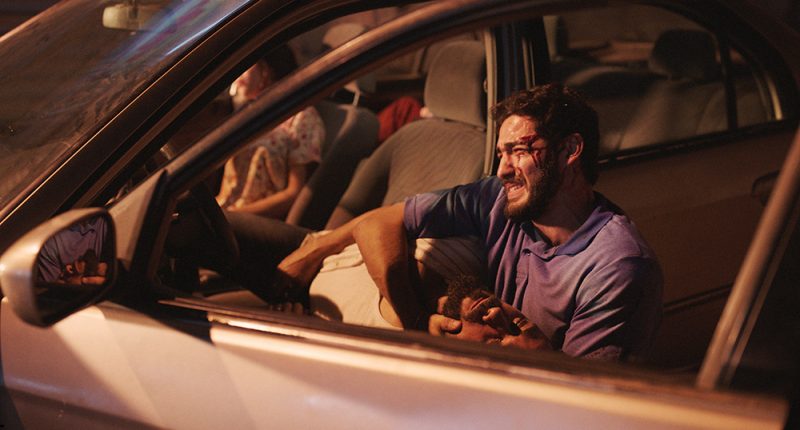 High-flying Access Entertainment, a division of Len Blavatnik's Access Industries and equity investor in A24 and "His Dark Materials" producer Bad Wolf, is investing in "Red Skies," one of the biggest titles set to world premiere at this year's Series Mania, in main International Competition.  
Blavatnik and Danny Cohen, Access Entertainment president, will serve as executive producers on "Red Skies," a position they also hold one upcoming movies such as Beau is Afraid, starring Joaquin Phoenix, Jonathan Glazer's "Zone of Interest," "Iron Claw," starring Zac Efron, and "Conclave," from Edward Berger, director of "All Quiet on the Western Front."  
An eight-episode series, "Red Skies" will be broadcast on Reshet 13 later this year. 
"Red Skies" marks Access Entertainment's first foray into Israeli television drama production. It makes its bow on a series which involves a bevy of the prime movers on Israel's international TV scene.
Produced by Yoav Gross, Red Skies" is created by "Euphoria's" Ron Leshem, Daniel Shinar, on whose best-selling novel the series is based, Daniel Amsel ("Euphoria") and Amit Cohen ("False Flag"). Leshem and Cohen co-created "No Man's Land," a standout title at Series Mania in 2020, as well as Traitor, on which Amsel served as a lead writer,  
On "Red Skies," Alon Zingman, behind Netflix hit "Shtisel," directs. 
"We're proud to be involved in bringing Daniel Shinar's novel 'Red Skies' to television screens around the world," said Cohen, president of Access Entertainment.
He added: "Access Entertainment is passionate about supporting the Israeli entertainment industry and taking its content to a global audience. We're also delighted to see that 'Red Skies' has been nominated for the Best Series Award at the Series Mania festival."
"There is a reason why I love Danny Cohen: He is the one who commissioned 'Skins'," said Leshem, of the former head of Channel 4's E4 Youth service.
"Their vision for creating global television and high-end drama is something that truly excites us. If you compare [Israeli] 'Euphoria' to its American counterpart, the cost of that entire show would barely cover their morning refreshments. We need to bring in investors from the outside and we want their insight."
"We knew we needed a bigger budget to make 'Red Skies' look good. Combining international partners, like Access, and the exposure that Israeli shows already have, could really help these productions in the future," agrees Daniel Shinar, also behind the bestselling novel it's based on. 
The series, set during the Second Intifada (2000-05), introduces two childhood friends, Sa'ar and Ali, who suddenly find themselves on the opposing sides of a bloody conflict, with Jenny, Sa'ar's American girlfriend and a fearless war photographer, left in the middle. 
The series stars Maor Schweitzer ("Valley of Tears"), Amir Khoury ("Fauda"), Annie Shapiro, Lihi Kornowski ("Losing Alice"), Alona Sa'ar, and Yaakov Zada Daniel ("Fauda").
"I know I don't look it, but I wrote this book 20 years ago," laughed Shinar. 
"When I was a kid, I took part in this initiative called 'Seeds of Peace.' There is a photo of Bill Clinton, Yitzhak Rabin, Shimon Peres and Yasir Arafat on the White House lawn, celebrating the 1993 Oslo Accords, surrounded by children. I was one of them. Later, I had this vision where I knock on someone's door to arrest them, they open and I see one of my Palestinian friends. When I joined the army, this weird dream almost became a reality."
The homonymous novel "wrote itself," said Shinar, a former Israeli intelligence officer. But trying to get it published was another story.    
"I remember when censors summoned me to the meeting and said: 'We have good news and bad news. The good news is, we loved the book. But it's not going to see the light of day.' We negotiated for a year. Every page, every character, every word. Once we were done, it had to be approved by the Mossad, then by a ministerial committee which included Benjamin Netanyahu." 
He met Leshem shortly after.
"Before he turned to TV, Ron was a writer himself: it was like meeting Michael Jordan. He read the book before it was published. It's very emotional, making this show with him now," added Shinar.
"I was the head of the intelligence unit [overseeing] the Palestinian peace talks. We were aware that so many powers, on both sides, were trying to sabotage it," recalled Leshem.  
"When hope collapsed, I was already a journalist, spending every evening looking at photos of dead bodies. I felt like I was carrying this tragedy on my shoulders, inhaling every casualty and every name of a kid that was killed."
While coming back to these events was hard for them both, it was also necessary, they state. 
"What happened in 2002 fuelled our society with violence and hate. Right now, it's on steroids. We all saw bodies and explosions, and every Palestinian kid knew us only as soldiers bursting into their homes. But we wanted to talk about love that tries to survive even when the entire region is up in flames," said Leshem, underlining that both Israeli and Arab writers – Ali Waqed, Ala Dakka, for example – have collaborated on the show.  
"Before, I think it was only done on the HBO miniseries 'Our Boys'," he added. 
"As a writer in the U.S., you are only allowed to write about yourself. But I don't want to just be myself – I want to empathize with the other side. It would be a mistake to say: 'I will be the voice of the Israelis and you will be the voice of the Palestinians.' Hollywood is so suspicious of that, but we wanted to have a collaborative set." 
As well as protagonists who are "relatable and lovable," said Leshem.
"All my life, the only characters I could write were the ones I was attracted to. Even sexually! The only one I was disgusted by was the assassin of prime minister Yitzhak Rabin in 'Incitement.' After that, I had to get back to the ones I wanted to spend my time with." 
As noted by Shinar, it was always their intention to cover multiple perspectives in the action-filled show.
"The idea, also in the book, was to give a sneak peek into the lives that most people don't get to see. The lives of intelligence officers, fighters, terrorists. One of our writers, Ali Waked, used to work as a correspondent in the West Bank. Between the three of us, and our other partners, we were able to deliver a story that's personal but very much tied to the reality of that time."
"These characters are trying to hold on to each other, but it's almost impossible. And yet this boldness of someone who stays, even when the military tells all foreign journalists to leave… I saw that with my own eyes. Writing about journalism is very personal for me," added Leshem. 
"These are questions I have always been asking myself. If I found myself living in a dictatorship, in a place where women are stoned to death for adultery, like in Iran, would I fight? Or would I be the fearful guy who escapes?" 


Post source: variety