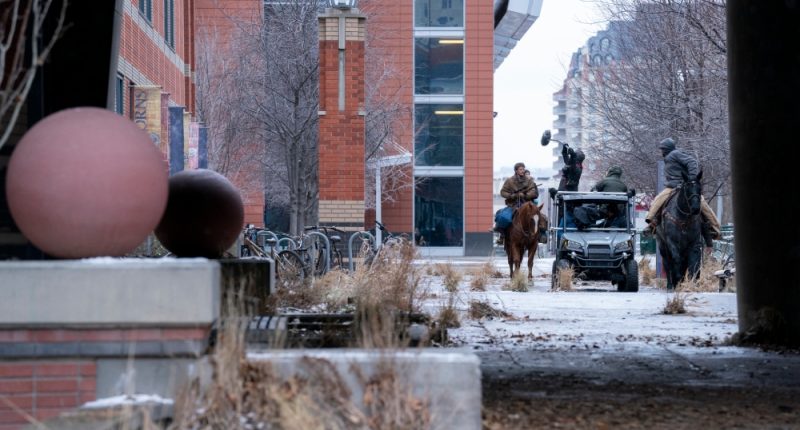 The new head of the AFCI has big goals for the organization, and looks to promote stability within the leadership, which has seen a few presidents come and go in the past handful of years.
"I really want to reassure people that I'm in this for the long haul and I feel like I have the right skill set to take the organization through and develop a really good strategy for it for the next 10 years," says Jaclyn Philpott, the recently installed AFCI exec director. "I'll be ready and willing to answer any questions that they may have. You know, I've had a very good look under the hood at the organization, from the financials through the previous strategies to what's happening in the market right now, and I feel like I have a good idea of what they want based on what they've told me and in my own research."
While the thirst for content from streamers has boosted production all over the world — even as that thirst has been slaked somewhat recently — and regions are seeing that TV and film production can help diversify local economies — as Saudi Arabia has done — Philpott says she sees significant opportunities for growth and collaboration between the AFCI, its members, government and the production industry.
"There are so many emerging regions. … But what I love about these new smaller regions is they really understand the power of film tourism and tourism in general, and I think that's also something that ACFI needs to consider:  what is our role in growing regions? How can we help film commissions get with the tools that help them from an economic development perspective? There are tools that we can provide, whether it's around the type of conversation to have with your local governments, to the basics of marketing."
AFCI Week, running March 27-30 at the Sofitel Los Angeles in Beverly Hills, gathers members for conversations, panels and networking. The panel topics are wide-ranging, aligning with Philpott's goal of collaboration and education. Topics include virtual production, a talk on navigating government relationships, using data and AI, workforce development and even a session — only open to AFCI members — called How Would
You Handle It with the AFCI board. 
"It's always exciting because I've been told it means that you can get up and say anything. What would you do if this happened? And what would you do? It gives members an opportunity to really speak freely about things that are going on in their regions. And this is the value again of bringing people together in person," says Philpott.
She's also excited about the "The Last of Us" case study, featuring HBO senior VPs Jay Roewe and Katie Hayes, and Luke Azevedo, Calgary Film Commission VP, who will discuss how HBO and the film commission worked together on the hit series.  
"I think this is not necessarily just 'The Last of Us,' but it's any film commission who's working really closely with a production company and a location manager. I can't wait to hear that story because this is absolutely what we're all about — connection and collaboration," says Philpott. "I think some interesting, key insights will come from there."
AFCI's other immediate goals include expanding its education and diversity awareness programs to "empower members to create such programs in their own regions."
In the end, it's about sustaining members' passion for  the business.
"I think it's also helpful just to always go back to the why we do this, and what are the positive impacts of what we're doing," notes Philpott. "It's about creating jobs, and creating skills, pathways, and giving people transformative experiences. And I think when you can connect back into that, it makes the long hours all that much better." 


Post source: variety