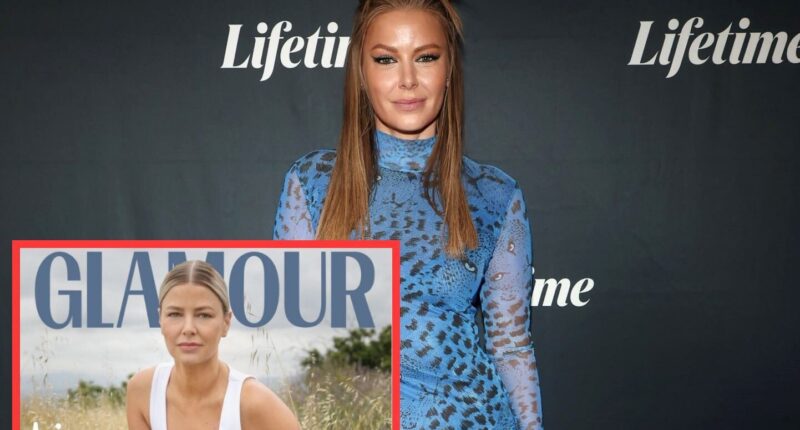 Ariana Madix is placing blame where blame is due.
Following part three of the Vanderpump Rules reunion, Ariana found herself on the cover of yet another magazine as she discussed the lack of intimacy in her relationship with Tom Sandoval, labeled Tom Schwartz "very instrumental" in "Scandoval," and admitted to feeling "shock" and "belief" when she first learned of Sandoval's affair with Raquel Leviss.
"There are layers to it," Ariana explained of why the controversy has been so salacious during a June 8 interview with Glamour. "The best-friend layer, the fact that [he] and I were together for so long and so many people, including myself, saw us as endgame. It's the deception, the trying to manipulate a narrative, the fact that so many people have been through this themselves, and they recognize parts of it."
It's also due to the fact that fans have formed a bond with Ariana over the years.
"I feel close to a lot of people who watch the show or who will come to BravoCon or who I'll message with on Instagram," she said. "I know maybe it sounds silly—we're strangers—but I do feel close to them."
"I feel like we're a community," she continued. "And so with this, I hope that in talking about it and allowing [Bravo] to capture it, maybe I'll be able to connect with a community of people who will be able to say, 'This is how I got through this. This is what worked for me.'"
As she continues to navigate her suddenly single life post-"Scandoval," Ariana said she has no time for those who feel the controversy was created as a ratings boost.
"If someone says that on my page, they get blocked immediately… I'm kind of like, 'F-ck off, this is my real life,'" Ariana explained.
Looking back on her roots in Florida, Ariana said she doesn't come from "generational wealth," which makes her all the more focused on building a legacy.
"I want to make enough money to be able to take care of my mom and my brother and any other family members who may or may not need it. I never want to worry about it ever, ever, ever. So I will work as much as possible to not have to," she explained.
When she was a child, Ariana struggled with her relationship with her father, who would often stay out late as she and the rest of the family remained at home.
"He's no longer with us and I love him and feel like he was going through some stuff and doing his best in a lot of ways, but he would have a tendency to be done with work and be at the dive bar as opposed to helping us with our homework. And my mom did everything," she recalled.
In an effort to make her father want to stay home more, Ariana said she aimed for success.
"If I'm perfect, then he'll want to be there," she thought to herself at the time.
Prior to landing a gig on Pump Rules, Ariana moved to New York City, and then to Los Angeles, to pursue an acting career.
"I was doing acting stuff, but I couldn't push past whatever [I needed to] because I didn't have legitimate television credits or anything to be able to move into the next level," she explained.
Although Pump Rules garnered Ariana with the notoriety she was lacking prior to joining the Bravo cast, it also saw what was perhaps her greatest heartbreak unfold.
"I think the shock prevents you from being sad immediately," she said of coming across an NSFW video of Sandoval and Raquel on her then-boyfriend's phone in early March. "It was like the air was sucked out of my lungs. It was shock, disbelief on some level, but then also anger."
And she wasn't the only one mad.
"[Sandoval] was really mad that his little house of cards was crumbling," she revealed, noting that he quickly changed the passcode to his phone — but not their laptop.
"A few weeks after all of this [broke], I was just doing stuff on the laptop," Ariana said. "And I found all kinds of stuff in the Notes app. It would be a note labeled 'restaurant,' but then way down at the bottom there's screenshots of text messages and things like that."
In addition to confronting Sandoval, Ariana sent a text to Raquel that read, "You're dead to me," and later called her.
"She was somewhat emotionless, and I was devastated," Ariana shared.
Also caught in the crossfire was Schwartz, Sandoval's longtime best friend and business partner.
"He was very instrumental in all of it. And I was not aware of that at the time. He knew about all of it since August, at least," Ariana revealed.
Adding insult to injury for Ariana was the fact that Sandoval told people she threatened to kill herself if he broke up with her. As she explained, that was not true at all, but she did say she might quit Pump Rules.
"He was very offended by that idea," she says. "He's like, 'I helped you build this whole brand and this Instagram following [but] who the f-ck cares?' … I literally thought he was a completely different person than he is."
Towards the end of their relationship, Sandoval and Ariana's sex life dwindled, which she blames on their lack of intimacy.
"I feel like I'm someone who craves intimacy outside of just penetrative sex," Ariana explained. "And that was something that I was deprived of for so long. As women, we might bring something up a bunch of times and then we just stop. That's where I was at. I was like I cannot keep nagging this man to want to come home and spend time with me."
"The way that so many men act like they are entitled to your body and entitled to sex because you're in a relationship with them. I am not your Fleshlight. I spelled out what I needed, but hello. It's a two-person situation," she added.
In addition to focusing on her and Katie Maloney's sandwich shop, Something About Her (her favorite item is the Greek salad sandwich), which she feels "really, really confident about" and is "pretty much finished," Ariana said she's open to a spinoff with Katie — and to leaving Hollywood behind.
"I think I love change," she confessed. "I picked up and moved to New York with no friends and no job. I moved from New York to LA with no friends, no job, no money. If I picked up from LA and I moved…. It's like being a new version of myself."
She's even open to a future marriage, although she still "wouldn't want a wedding."
"For me, it's about the marriage," she stated. "There's something about weddings, and the fanfare, and the bachelorette. I just don't want any of that. And I think that's a big part of it for me."
Vanderpump Rules season 11 is expected to begin filming later this month.


Post source: RB