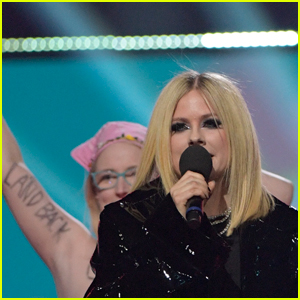 Avril Lavigne deals with a topless protester who rushed the stage while she was introducing a musical performance at the 2023 Juno Awards on Monday (March 13) in Edmonton, Canada.
The 38-year-old Love Sux star took the stage at Rogers Place ahead of AP Dhillon's performance.
She attempted to keep things going according to plan as a woman joined her and threw off her shirt. Wearing pink pants and a matching bandana, the stage crasher left her chest nearly totally exposed with only a pair of pasties covering her.
Avril was not daunted and handled the situation like a champ.
Find out how Avril Lavigne handled her topless protester at the 2023 Juno Awards…
After ignoring the woman, Avril turned and told her off.
"Get the f-ck off," she said. "Get the f-ck off, b-tch."
Based on reports emerging from the show, it appears that the woman was protesting a development plan in Ontario. She had phrases such as "Save the Green Belt" written on her.
According to Billboard, Avril referenced the viral moment when she returned to the stage to claim the Fan Choice Award.
"Now nobody try anything this time. I'll f-ck a b-tch up," she said.
Other stars in attendance for the awards show included the night's host Simu Liu and performer Tate McRae. We have pics of them in the gallery!
Check out the latest about Avril's love life.
Scroll through some pics of Avril Lavigne's encounter with a topless stage crasher at the 2023 Juno Awards in the gallery…




Post source: Justjared