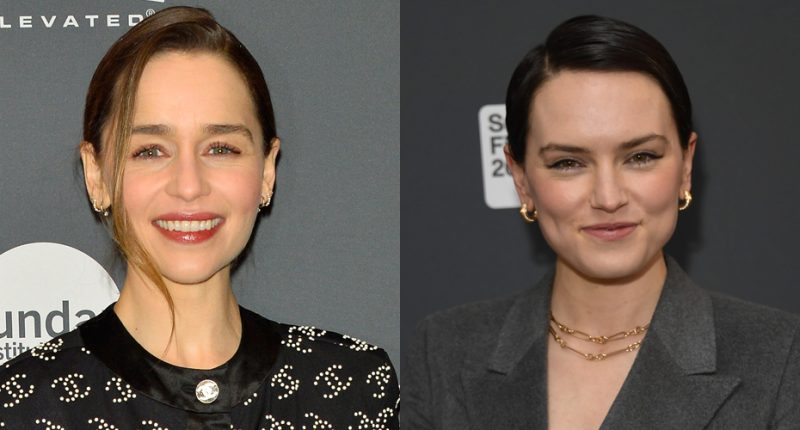 Emilia Clarke and Daisy Ridley have answered the ultimate question from fans – if they'd return to Star Wars.
The two actresses have both starred, and wrapped up, their characters' stories in the films they starred in.
For Emilia, she was Qi'ra in Solo: A Star Wars Story. Meanwhile, Daisy famously played Rey over the course of three films: Star Wars: The Force Awakens, Star Wars: The Last Jedi, and Star Wars: The Rise of Skywalker.
Keep reading to find out if Emilia or Daisy would return…
During their appearances at the Sundance Film Festival this year, both Daisy and Emilia were asked if they would return if asked.
For Emilia, it was a quick no.
Speaking to IndieWire, she said that while it "would be lovely, that would be very nice. [But] I'm genuinely having a wicked time on Marvel, though, they're absolutely brilliant."
Emilia is currently working on Marvel's Secret Invasion for Disney+.
However, Daisy told IMdB that she would definitely consider returning.
"I mean, I'm open to a phone call. I'm looking for employment!" she shared.
Daisy also spoke to TheWrap about how she has watched the Star Wars franchise shows on Disney+.
"I haven't watched all of them, but it's just because of timing and stuff like that. But yeah, I mean the work everyone's doing is amazing," she shared. "I worked with Pedro Pascal and I was like, 'This is really cool; he's The Mandalorian.' I still find it all very exciting."
Another star has also revealed the only reason they'd return to the franchise at all. See who here!




Post source: Justjared