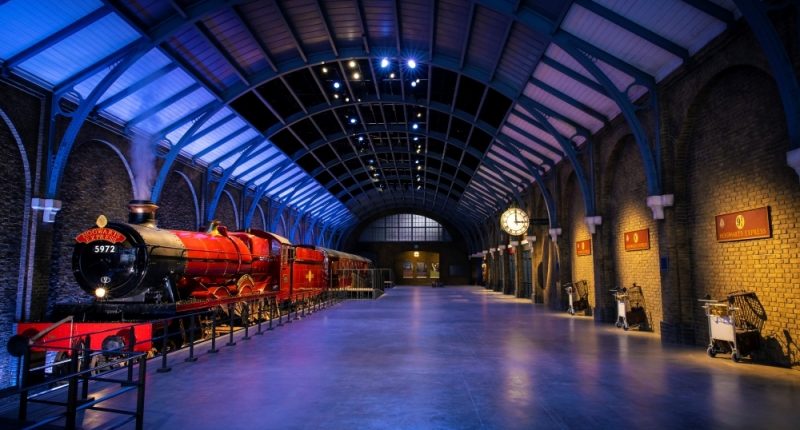 Warner Bros. Discovery have unveiled the date the Warner. Bros. Studio Tour Tokyo – The Making of Harry Potter will open in Japan.
Billed as the world's largest indoor Harry Potter attraction, it is set to open its doors this summer, on Friday June 16. Ticket sales will begin on March 22. It is also set to be the first Warner Bros. Studio Tour in Asia.
The attraction, which will feature exclusive sets and experiences, will be located on the site of the Toshimaen amusement park in Nerima, Tokyo, which shut down in Aug. 2020.
Potter fans will be able to step into the world of Hogwarts and more, learning how the films were made, exploring costumes, props and sets and special effects.
Among the sets on display in Tokyo will be 9 ¾, Diagon Alley, Hogwarts' Great Hall and the Forbidden Forest. After feasting their eyes on the displays, visitors can also stop off at the Chocolate Frog Cafe, which promises a "selection of Wizarding themed sweet treats," the Backlot Cafe or the Food Hall, where they can enjoy British delicacies washed down with Butterbeer.
The Platform 9 ¾ set was created by the original Harry Potter filmmakers using authentic techniques. It's home to the Hogwarts Express which is an original British steam locomotive that was built in 1929 called The Dumbleton Hall. Operated by the Great Western Railway, it continued to run for over 35 years until it was retired. The locomotive was refurbished in England, then shipped to Japan to take up its position at the Studio Tour.
The Great Wizarding Express, a set that is exclusive to Tokyo, which appeared in "Fantastic Beasts: The Secrets of Dumbledore." The train carriage is art deco in styling, to match the era, and is decorated with ornate detailing throughout recreating the appearance of birdseye maple, ebony and brass inlay strips.  Depicting the scene where Newt Scamander leads an intrepid team of wizards, witches, and one brave Muggle baker on a dangerous mission, the mannequins display the costumes of Newt Scamander, Jacob Kowalski, Theseus Scamander, Bunty Broadacre, Yusuf Kama and Eulalia "Lally" Hicks.
The Studio Tour will also be home to the largest Harry Potter shop in the world, featuring 14 themed sections that are decorated with over 7,000 bespoke and specially sourced props.
"In addition to fantastic interactive features, multiple photo opportunities and the world's largest Harry Potter shop, the Studio Tour will exclusively showcase a number of incredible film sets that are one of a kind," said Torben Jensen, VP and GM, Warner Bros. Studio Tour Tokyo.
The boy wizard continues to be big in Asia, with fans flocking to Universal Studios parks in Osaka, Japan and Beijing, China to experience the Wizarding World of Harry Potter.


Post source: variety