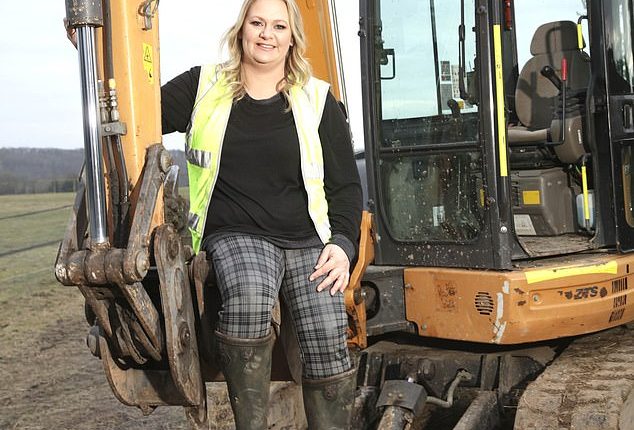 When Prince Harry lost his virginity to an 'older woman' in a field outside a pub, it marked the end of a close, two-and-a-half friendship which saw the couple go in radically different directions.
Sasha Walpole, 40, a digger driver from Wiltshire, revealed last night that she was the mystery woman referred to in the Duke of Sussex's memoir Spare – but described a close friendship with the prince which emerged over a shared love of horses.
After a birthday celebration the night before Ms Walpole's nineteenth birthday, the pair had their quick tryst behind the Wiltshire pub before going their separate ways, never speaking again.
Now Ms Walpole has lifted the curtain on her old friend Harry, who she says was 16 at the time, and revealed the secret she has kept for 21 years.
Sasha Walpole, 40, is a digger driver and horse-lover from Wiltshire – a world away from Prince Harry's glitzy life in California
Ms Walpole (left) and Prince Harry (right) were in a group of friends who bonded over horses as teens
Ms Walpole met Prince William before ever coming into contact with his young brother – at a comedy night starring the late Cornish comedian Jethro at the Beaufort Hunt Kennels. 
She had recently begun working at Highgrove as an assistant groomer, aged just 17. 
She subsequently made friends with Harry at one of his favourite pubs, The Rattlebone Inn, in the nearby Wiltshire village of Sherston.
They bonded over their love of all things equestrian and stories of her escapades on her own horse Beano. 
After meeting at The Rattlebone Inn, she was soon invited to the princes' space at Highgrove, where then-Prince Charles had granted them a chill-zone.
Ms Walpole fondly recalls boozy nights including games such as Spin the Bottle.
The first time the Prince rang her on the white push-button landline phone wired into the wall at home, it was mother Lyn who answered.  
Prince Harry was pictured socialising with some of his friends in June 2001, including Sasha (circled)
Prince Harry married Meghan Markle and moved to California, a world away from Wiltshire
A younger Sasha Walpole dressed up for a Polo ball, around the time she was friends with the princes
'Mum said, "Harry's on the phone." Afterwards she asked, "Was that HARRY?". I said, "Yes!" and I remember her saying, "Oh, how funny".'
Her close friendship with Harry was born of a common understanding: 'Everyone was equal in the world of horses.
'Our group was a very mixed bunch of polo players, grooms, hunt staff and racing people, a cosmopolitan crowd. 
'It didn't matter if you were a groom, a Royal or a rider. There was no judgment.
'Harry didn't act like a Prince, there wasn't any snobbery. Honestly, we were just two mates who talked horses.' 
But their friendship came to an abrupt end when a quick cigarette break turned into a romp in a field – and they never spoke again.
Ms Walpole was hired as an assistant groom at Highgrove in 1999, at the age of 17
Sasha Walpole is now happily married to husband Ian, a drift racer, with two young daughters
'He started to kiss me,' she remembers. 'It was passionate, intense. We both knew. It went from a kiss on to the floor pretty quickly.
'It was instant, fiery, wham bam, between two friends. It was sparky because we shouldn't have been doing it. He wasn't 'Prince Harry' to me, this was Harry, my friend, and the situation had got a little bit out of control. It felt naughty, I suppose, in the sense that it shouldn't be happening.
'We didn't set out to do it – it wasn't premeditated and I didn't know he was a virgin. There were no virgin vibes – he seemed to know what he was doing. It was quick, wild, exciting. We were both drunk. It wouldn't have happened if we weren't.'
She recalled seeing him hiding in a phone box as she left the pub for home – and the encounter marked the end of Sasha's friendship with Harry. From being regular drinking partners, the pair never texted, spoke or saw each other again.
After the encounter, Prince Harry returned to Eton to continue his studies, and she was preparing to leave home, having applied for prestigious grooming jobs as part of a plan to pursue a career with horses.
But tragedy struck with the arrival of foot-and-mouth disease in the UK. Her job opportunities vanished, and she decided to instead follow the path of her father, and swap her car for a one-tonne digger instead.
As Prince Harry left school and pursued a career in the army while enjoying the luxuries of royal life, she was digging holes in some of the most rural areas of England.
The Vine Tree Pub, Norton, Wiltshire where Prince Harry had sex with Sasha Walpole in a field, which the Duke sensationally revealed in his bombshell memoir Spare 
Ms Walpole is now a mother to two daughters and excavates footings for patios and driveways in her day-to-day life.
While Harry married American actress Meghan Markle, Sasha opted for professional drift racer Ian Walpole, initially meeting him in 2001 before marrying in 2016. 
It was Ian who bought her her first digger as a birthday present.
She said: 'Now I drive a one-ton that goes through doorways and a three-ton too. Plus I have two dumpers.'
While she and Mr Walpole moved an hour up the road to settle in Wiltshire, Harry and Meghan moved halfway across the world.
In recent months Prince Harry has been extremely busy with the release of his memoir Spare and Netflix series Harry and Meghan.
His father's coronation is fast approaching, with no sign of the rift between the Sussexes and the rest of the royal family ending.
Meanwhile Ms Walpole, her mother and sister have kept her secret for more than two decades, enjoying a life outside of public scrutiny – until now. 
On Harry's revelations, she says: 'Being exposed in a book is surreal. I'm here in my home in Wiltshire with my husband Ian and my kids and – 21 years later – this.'
'I don't think people will be amazed about me and Harry having sex in a field,' she says bluntly, 'but they are usually astonished by a woman driving a digger.'
It says much about the happily married mother-of-two – all of it good – that she has guarded their secret for so many years.
And it says much about the teenage Harry – also good – that he initiated a two-and-a-half-year friendship with a girl from outside the so-called Glosse Posse of wealthy, blue-blooded youngsters who made up his social circle in rural Gloucestershire. 


Post source: Daily mail