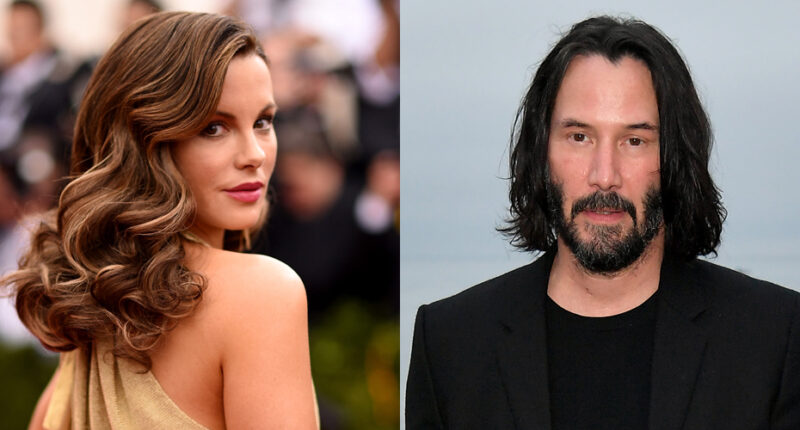 Keanu Reeves helped Kate Beckinsale avoid an embarrassing wardrobe malfunction during one of her earliest big appearances.
The 49-year-old actress unearthed a photo from her first appearance at the Cannes Film Festival in the early '90s.
She paired the throwback photo with a funny story about how Keanu and another one of their Much Ado About Nothing co-stars helped her keep herself covered while they were walking the red carpet.
Read more about Kate Beckinsale's recollections of the moment with Keanu Reeves…
In the photo she shared on Instagram, Kate is smiling on the red carpet between Keanu and Robert Sean Leonard. You can't tell in the cute picture, but the guys are serving an essential purpose at her side.
"Fun fact though : I had bought the bodysuit in the Sock Shop at the airport and when I got in the car to drive to the premiere with Denzel and Pauletta Washington , all the poppers in the crotch popped themselves open and it flipped up like a roller blind," she recalled in the caption. "I didn't feel it was appropriate to go delving around in my undercarriage with all of us in the back of the car so I just quietly panicked ."
She continued, writing, "Walked out onto the biggest red carpet of my life and whispered to Keanu and Robert Sean Leonard what had happened . In this picture I am holding the front gusset down and the two of them are holding the back gusset. Absolute legends who may not even have fully understood the physics of what was happening or even heard the word 'gusset' before ,but both jumped in to save me no questions asked x."
If you missed it, Kate recently reacted to rumors that she's had plastic surgery.
Did you know that Keanu was reportedly in talks to join the cast of a hit franchise twice? One of his rumored roles went to Ryan Reynolds.




Post source: Justjared