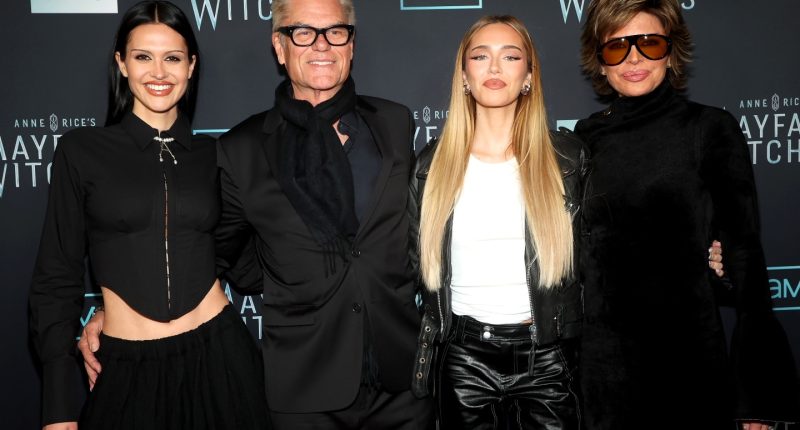 It's been nearly two months since Lisa Rinna bowed out of The Real Housewives of Beverly Hills after an eight season run, and she hasn't looked back.
Upon her exit, Lisa has been flying around the globe attending various fashion events and fashion weeks, providing fans with a plethora of interesting fashion ensembles, something she didn't have time to do enjoy while filming RHOBH.
"It has been heaven, absolute heaven. I mean, I've been to Paris and London, and I've been able to travel and go to fashion shows. I'm having really the time of my life," Lisa told Us Weekly while promoting her partnership with Don Julio Tequila. "I'm having so much fun, and this is all about fun and party time off. I mean, it's perfect. Couldn't have come at a better time."
Lisa's also been using her well-deserved time off to spend time with her famous family, husband, Harry Hamlin, and model daughters, Delilah Hamlin and Amelia Hamlin.
Lisa and Harry have one of the longest marriages in the business. According to Lisa, there's no "secret sauce" (well except Harry's famous Bolognese) to making their union work.
"There's no real secret answer, other than it just seems to work. We really are very opposite, and I do think there's something about opposites attract because Harry and I could not be more different. And yet we come together, and I think we really get a kick out of each other and enjoy each other," Lisa said.
Lisa continued, "I have both my girls [in town] right now, which is really fun," she told the outlet. "Amelia's been here for about a week. … I guess my challenge is kind of keeping up with both of them and their lives and their careers and that's what's been a challenge 'cause they're just doing so well and they're all over the place. It's been really fun."
There has been much to celebrate as Lisa recently attended the drop-party for Delilah's new single and music video, "Nothing Lasts Forever," this past Saturday night at the Hotel Ziggy in Hollywood.
The whole family was in attendance, including Harry and Amelia, as the brood sipped cocktails and enjoyed the night's festivities.
Delilah took to Instagram to post a photo from the event earlier this week and thanked all those who have supported her along the way.
"So incredibly grateful to everyone who has supported me on this journey. From all of my followers to my friends and family THANK YOU. I am so excited for this new journey I'm on and I hope I'm able to continue to do what I love🤍 thank you to everyone who came out to support the other night, love you all!!" she captioned the post.
Lisa also shared a photo from party supporting Delilah gushing, "Celebrating the release of Delilah Belle's New Single Nothing Lasts Forever. 💕 #proudfamily
[
Delilah's celebration comes on the heels of the model revealing that she suffered seizures while shooting the music video.
With so much going on in their lives, many fans have speculated whether a new reality show could be on the horizon for Lisa and the family. Something similar to her 2010 reality show, Harry Loves Lisa. However, Lisa explained that she doesn't think the idea is quite ready to come to fruition.
"Well, gosh, I never say never. I never say never ever to anything. You just never know. I mean, everybody's busy right now doing their own thing. Delilah's releasing her first song ['Nothing Lasts Forever'], which is very exciting. And Amelia's got her career all over the world and Harry's working on Mayfair Witches. So, I couldn't really even get everybody together at this point," Lisa concluded.


Post source: RB