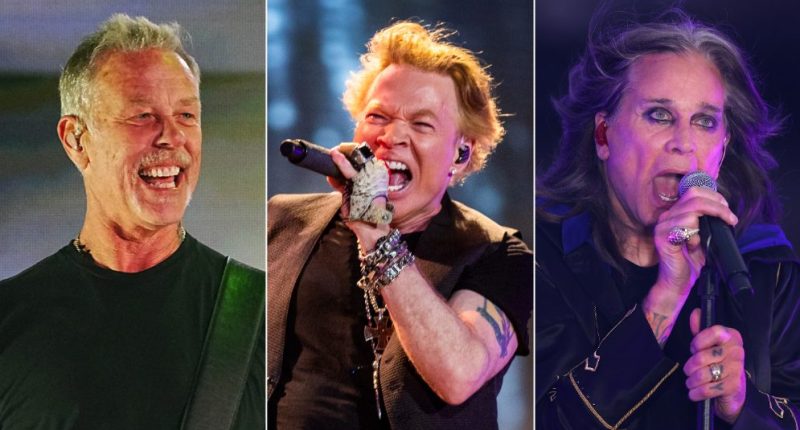 As expected, a new hard rock festival called Power Trip, from the founders of Coachella, has announced its lineup: Metallica, Guns N' Roses, Ozzy Osbourne, AC/DC, Iron Maiden and Tool. It will take place at Coachella's home base of the Empire Polo Grounds in Indio, Calif., Oct. 6-8.
Basically all of the news that leaked earlier in the week is accurate: Guns N' Roses and Iron Maiden will perform on Friday, AC/DC and Osbourne on Saturday and Metallica and Tool on Sunday.
The acts are all multi-decade veterans and most have been actively touring in recent years. The 74-year-old Osbourne's health has been an ongoing concern and he even announced his retirement from touring earlier this year, but he usually finds the stamina to deliver when the moment calls for it, and a one-off concert may be less of a challenge than a full tour (he also made his first "retirement tour" in 1992). The other acts either hit the road recently or have tours already lined up for 2023.
The artists also have performed together many times — in fact, in their rough-and-tumble days, Guns N' Roses were kicked off of an opening slot on an early 1988 Iron Maiden tour because of what one might politely term their nasty habits, not that it caused any harm to their career. But Metallica and Guns N' Roses toured stadiums as coheadliners in 1992 and GNR lead singer Axl Rose even filled in for ailing AC/DC singer Brian Johnson for North American dates in 2016, with generally impressive results.
Despite the Coachella connection, the festival is more like a hard rock version of Goldenvoice's 2016 Desert Trip festival, which featured a classic-rock dream team of Paul McCartney, the Rolling Stones, Bob Dylan, Neil Young, the Who and Pink Floyd co-founder Roger Waters.


Post source: variety