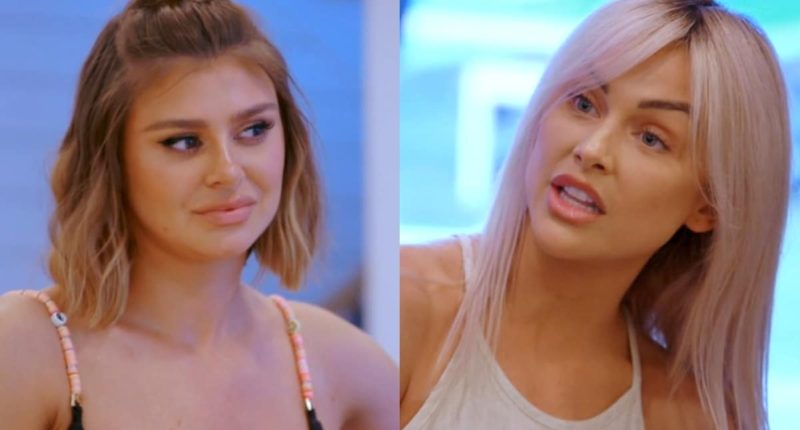 Watching these episodes of Vanderpump Rules knowing what we know now about #Scandoval is absolutely riveting. Trying to dissect the side-eyes Sandoval gives to Raquel (I mean, Rachel) and finding breadcrumbs that were missed is becoming a part-time job.  But it seems like more and more of the cast have caught on to Raquel and her ways…especially after she crashes guys' night and continues pushing her way into relationships…
Sandoval pretends to be surprised by Charli and Raquel crashing guys' night and James is about to have a conniption that his evening has been shot to sh*t courtesy of Raquel. Mainly, James is concerned about Ally 's reaction upon hearing the additions to the guest list. He runs off and Sandoval and Brock follow him.
In the meantime, Raquel squeezes herself riiiiight next to Schwartz. Charli fills the group in on what went down to bring them back to LA and Raquel innocently explains that she is "young and fun and single."  Raquel was annoyed that the girls made it seem like she was only chasing after guys that they're interested in (you could say that again) and plays it as though the *mean* girls drove her to come home.  She further states that Katie's mom was also in Vegas and slides in that she mentioned wanting to make out with Schwartz in front of her (ya know, Schwartz's ex-mother-in-law.  In what world would that be an appropriate conversation?!).
When Raquel talks about the girls saying they could not trust her around their men, Sandoval smirks in a way that makes my skin crawl. But what was really odd was when Schwartz called it hot that Raquel stood up to Lala.  When did Raquel get all this power in the group?! Even James is catching onto this…He is questioning why she is always around and ponders if Raquel showed up just to get a rise out of him.  Little does he know, her arrival has NOTHING to do with him…wrong guy, for sure.
In the meantime, over in Havasu, Katie, Lala, and Kristina recap the night they had.  Lala manages to snag a dude from the bar and when he texts her about coming over, Katie is trying to be her sex coach. Kristina knows that Lala is nervous, considering Lala hasn't had sex with anyone since she has conceived her child.  Lala lets us know that the sex was not good with her ex, but she is hopeful to score an orgasm with this new guy.
The next morning, Katie hears about Lala's sex-capades.  She overshares how hot it was and how she now has her groove back.  All in all, despite the early-on drama, the trip was great.  It definitely showed Katie Raquel's true colors, since Katie now realizes "beyond a shadow of a doubt" that Raquel truly sucks.
James and Ally head out for a tarot card reading (you know, your typical date). We learn that Ally has big aspirations to be a full-time tarot card reader in her future and so James is doing this for her. James and Ally are apparently "twin flames" and the cards say they should get away from past relationships.  According to James, "Raquel is f*cking up everyone's relationships" (how spooky to hear this knowing what we know now!).  He pleads that everyone start to point the finger at Raquel for once since she is not as great as they all think she is.
LVP visits with Tom and Tom and she wants to talk business. She learns that the guys don't want to be bought out and that even though Greg, a co-owner, is striving for perfection prior to opening, they are going to stick with him for business purposes.   The opening date keeps getting pushed back and LVP is getting worried about them. She is pushing them to open the doors of the restaurant, otherwise they will lose everything…like their money…relationships…oh wait…
Scheana's (2nd) wedding is only two weeks away and she is trying not to stress.  When she gets a call from one of her bridesmaids, she learns that all of the rooms in the resort are sold out and therefore, her bridesmaid cannot stay at the resort.  Big problem- however, Scheana has a solution!  Although she has not spoken to Katie recently, she does know that even though Katie has no plans to attend Scheana's wedding, she has (oddly) decided to stay at the resort.  Could Katie be kind enough to give up that room?
Ariana explains to Katie that after her dog, Charlotte, passed away, she is ready to have some fun again and so she is hosting a pool party. Katie is down, even though her least favorites will be in attendance.  The ladies switch gears and start talking about the sandwich shop that they are so focused on opening.  They now know what NOT to do after seeing the Toms flounder, so they have brought in a business consultant.  Ariana and Katie share their backgrounds with the consultant and try to pitch the shop. They discuss the location they recently checked out and agree that it is perfect for their venture.
While at SUR, Raquel grabs James and touches base with him about guys' night.  James learns about Ariana's upcoming pool party from Raquel and Raquel lets James know he IS invited, as per Sandoval (weird). James is not pleased with how this group seems like they are pushing him and choosing Raquel over him.
Ariana and Katie head to TomTom and catch up with LVP. Katie fills LVP in on the letter of intent for the sandwich shop and LVP is so excited about their future.
While at TomTom, Katie learns about Scheana's wedding hotel debacle through Ariana. Katie believes that these are not her problems, but it is kinda a d*ck move for Katie to stay at the resort and not attend the wedding, particularly when she knows a bridesmaid is sh*t out of luck.
It's the day of Ariana and Tom's pool party and nothing good can possibly come by getting this whole group together under one roof.  We've got Scheana going on and on about how one of her bridesmaids is room-less and Lala is still not over Raquel's comment about her being a mistress.  Scheana claims to have Lala's back when it comes to this topic as she, too, has been called a homewrecking whore (hey Brandi Glanville!).
The party goes on and Raquel prances around making fake runway videos and while she does that, Lala calls her a "f*cking idiot." In the meantime, Raquel tells Scheana that she thinks Lala is pathetic and Raquel states that she is not a weak b*tch. Someone's gaining some confidence, eh?
Ariana can't seem to wrap her mind around Raquel being mean on the trip, but instead believes that Katie, Kristina, and Lala may have played the mean girl game with her.  Sandoval inserts himself into the conversation and yells to Katie, "If somebody doesn't have your exact perspective, they're wrong." Sandoval sticking up for Raquel speaks volumes…
Raquel tries to explain that her problem with Lala is that Lala slept with James while they were together. Sandoval reminds Lala that although she may be over it, Raquel just learned about this. Raquel calls Lala a pathetic bully and she does not want to be around "chihuahua followers" (whatever that means).
The thing is, Raquel is not wrong with the point she is trying to make, she is simply outnumbered and going about it the wrong way. Raquel claims that she has "leveled up" during the girls' trip and is proud of the new version of herself standing up to Lala, the mistress bimbo.
Later, Scheana confronts Katie about the resort issue and Katie is being impossible. Scheana is baffled why Katie would even want to go to Mexico and lets Katie know she does not want her energy around her wedding.  Scheana goes as far as offering to Venmo Katie $1,000 for the room, but Katie refuses.
Scheana runs off to report back to Schwartz, who suggests he tempt Katie with a marriage reconciliation at another resort just to get the room back for Scheana.  MEAN.  Ariana jokingly asks Katie, "What's your price?", but Katie refuses to back down, even though there is a simple solution to this problem. Schwartz suggests it would be cool for Katie to be the bigger person and Katie continues to be "emotionally entitled," according to Schwartz.  He keeps taking everyone else's side and it frustrates Katie to no end. Schwartz chases after Katie when she leaves the party, but Katie claims all she wants is an apology from Scheana for meddling (translation: she is still holding Scheana responsible for planting the seed about Schwartz in Raquel's head).
The episode ends as if Katie and Schwartz were still married (he is begging her to stay, she is ignoring him begrudgingly) and then we are slapped with that epic mid-season trailer.  Hold onto your hats…this is going to be something else.
TELL US – THOUGHTS ON THE VANDERPUMP RULES EPISODE?
Post source: RB