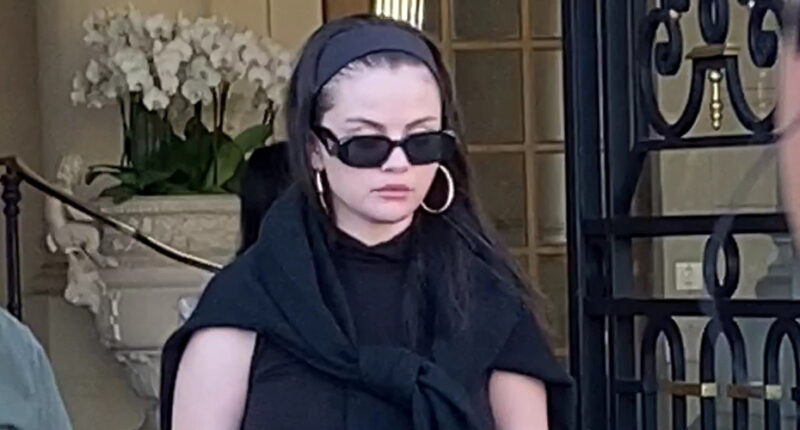 Selena Gomez steps out of a hotel following a private event in Paris, France on Wednesday afternoon (May 31).
The 30-year-old singer and actress looked très chic in an all-black ensemble, and wide headband, as she headed towards a waiting car.
Just recently, a new interview on Wondermind was published, where Selena opened up about her close relationship with married couple Nicola Peltz and Brooklyn Beckham, and touched about all the attention they get.
"When people go through what we go through—there being so much attention—I always think of the times when I get anxiety or I get stressed out or wonder what people are thinking about me. And that always drives me crazy," she started, with Nicola pointing out that the attention also affects her and Brooklyn.
"I definitely get anxiety and I think that's something I really struggle with. I just can't help reading the comments sometimes on my Instagram or whatever it is," Nicola says. "If they comment on my appearance and stuff, that doesn't bother me. But what really bothers me is when they say something that's so untruthful and it's just a blatant lie, and I want to respond and just say like, 'That's just not true.'"
Selena then spoke about the importance of surrounding "yourself with people who are like-minded but more just love you for you, and I think that's what I've appreciated about our friendship."
Nicola added that the three "speak the same love language where it's like, we never really go out in LA, we are with our six dogs now, we're always working or with the dogs. And when we're hanging out, it's always like sleeping over with Gracie, and Brooklyn's cooking, we're watching a movie, and that's the best."
"The best moments are just like when you don't have to do anything. You can just be with the people you love, and it makes me so happy, but I'm also such a homebody," Nicola added.
Head to the gallery to see 20+ pictures of Selena Gomez in Paris…




Post source: Justjared