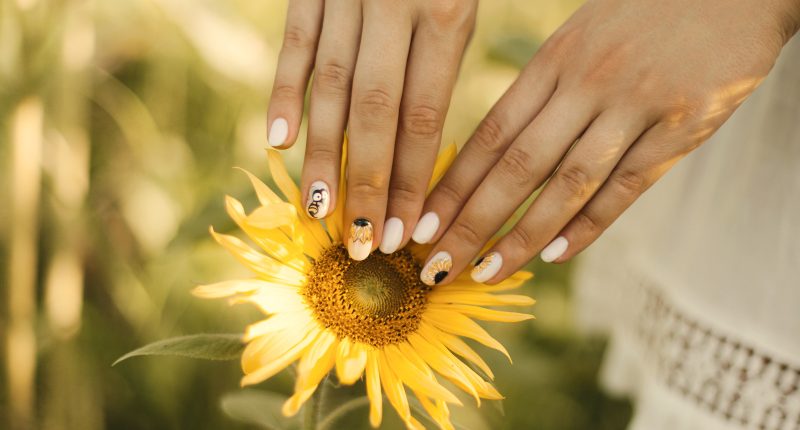 Komarova Julia/Shutterstock
The birds are chirping, the sun is shining, and the trendsetters are exchanging their dark and cozy hot chocolate nails for bright and sunny manicures. Summer is in the air! And if you're looking for a fresh and modern take on a traditional floral design, then look no further than trendy sunflower nails.
If you tend to window shop for nail inspo online, you've probably noticed the hundreds of sunflower designs blooming all over your social media feeds and timelines. With the hashtag #SunflowerNails revealing more than 57,000 Instagram posts and a whopping 6 million views on TikTok as of this writing, it's safe to say the lovely sunflower nail design is a popular choice.
It's also incredibly fitting for this time of year, considering sunflowers hit their prime blooming phase during the summer solstice. Plus, they need sunlight to survive, and we all have that in common with the cheerful long-stemmed blossom. From the flowerbed to the nail bed, here are six sunflower nail inspiration ideas that offer the sassy summer look your fingers have been waiting for.
Traditional sunflowers on a clear base
For those looking to keep the sunflower the focal point of the nail, apply it on top of a clear or nude base. That way, there are no other colors or patterns competing with the design. That's what Arizona-based nail artist @chalkboardnails did, as showcased in this Instagram post. Although the nails are short, the artist was able to paint a few flowers onto some of the nails, proving that you don't need to have extra-long acrylics to get the look.
Half-moon
When you mix a watermelon vibe with a sunflower design, you get this look shared in an Instagram reel by @tessa.lyn.nails. The sunflowers are in a semi-circle crescent shape on the lunula of the nail, giving a unique twist to the traditional sunflower design. The best part about this manicure is it can be achieved on any nail length since the sunflower is placed toward the cuticle and not the tip. Complete the look with a stunning green base and tiny black polka dots for that super summery aesthetic.
Hot pink, please
Is there another color that screams "summer is here!" quite like hot pink? Or any vibrant or neon color for that matter. This manicure shared by @lexurynails displays a medium-sized square nail with solid hot pink color. Instead of decorating each nail, she painted a delicate yellow sunflower design on one accent nail on each hand. The overall look is simple yet vibrant at the same time, ideal for those who are looking for a pop of fun with a minimal design.
Butterflies and sunflowers just go hand-in-hand
When you think of sunflowers, you may think of their delicious seeds and sunshiny yellow color. You may also think of the lovely summer critters, like monarch butterflies, that dance around the blooms. If so, you'll love this manicure created by nail artist @polishedmarissa, which showcases an intricate monarch butterfly on the middle fingers, a sunflower on the ring fingers, and citrus-colored solid matte nails on the rest. The butterflies and sunflowers sit on nude nails, allowing them to be the center of attention.
Wait, who says you can't rock a dark manicure in the summer?
If you're not the type to follow nail trends — or any other fashion and beauty trends in general — then you most likely march to the beat of your own drum. Conversely, if black is your go-to and you can't stay away from rocking the bold color on your digits no matter the time of year, then you'll adore a shiny black nail with perfectly painted sunflowers on the ring fingers, as seen in this Instagram post. The black and yellow pairing is gorgeous, which is definitely encouraging us to channel our inner Wiz Khalifa (with a feminine floral twist, of course).
Bee-utiful
There's something super cohesive about a bumble bee and sunflower combo. Perhaps it's the similar color palette or the fact that they are both typically seen together during the summer months. Regardless, pairing them together in a nail design is a genius choice. Take a look for yourself! This manicure created by @thenailbox_bymandy has an intricate, thoughtful, and playful vibe that is nothing short of perfection, especially on a structured square nail. And that bumble bee path shaped like a heart? So adorable.


Post source: The List