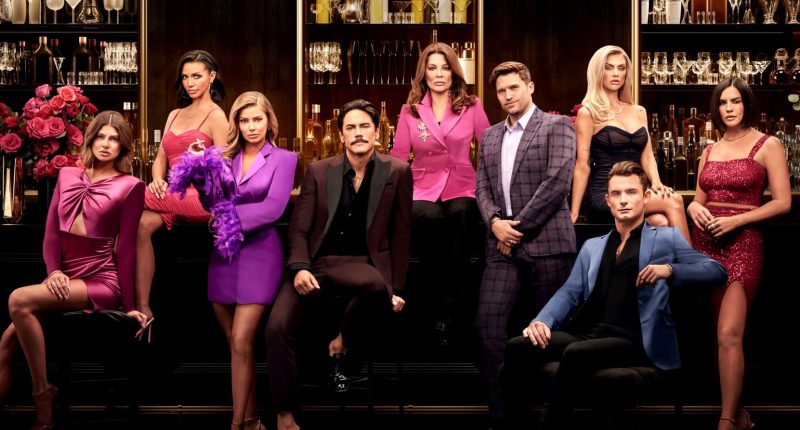 The Vanderpump Rules reunion was filmed on Thursday.
And while the event has been dramatized by the shocking affair between Tom Sandoval and Raquel Leviss, it was further complicated by the fact that Raquel filed a restraining order against Scheana Shay, who allegedly attacked her after the relationship was uncovered.
According to a series of new reports, which came as Bravo confirmed a set of seating charts for the event, producers were forced to restructure the taping to ensure that no legal violations were committed by cast members.
"It's going to be done like never before," a source told Entertainment Tonight on March 23. "So many logistics have gone into preparing for the event. Raquel and Scheana will both be at the reunion but they are not allowed to be within 100 yards of each other."
"Each will film with the cast at separate times, and while either isn't filming, they will be off-set in a different location," the insider continued. "There was discussion that they could possibly video call in while not on set, but due to the restraining order that Raquel filed against Scheana, they can't address one another."
Below are the seating charts for the Pump Rules season 10 reunion.
Another source told Entertainment Tonight that when it comes to the cast coming face to face with Sandoval and Raquel for the first time since their shocking betrayal against Ariana Madix, Bravo was sure to remind their stars to avoid getting physical.
"Bravo has let some of the cast know and plans to remind them on set that filming the reunion is a safe space, and no matter how upset they get, no one should put their hands on anyone. Security will be on the set," they noted.
The report went on to say that host Andy Cohen was planning to "do a sit-down with just them, either together or separately depending on how things go."
"There is also talk of Raquel getting alone time with or without Sandoval," the insider added.
And according to TMZ, Andy actually hosted individual interviews with Sandoval, Raquel, and Ariana.
As for Raquel and Scheana, they noted that the ladies would be held in their trailers, watching livestreams of the taping, when the other was on set.
In a third report from The U.S. Sun, the situation surrounding Raquel and Scheana was further detailed.
"It could be anything from they're both present but apart, Scheana appearing virtually or both appearing at separate times," the insider noted.
As producers prepared for the taping earlier this week, "minute to minute" changes were being made.
As for how Scheana was handling her legal drama with Raquel, her attorney said she's "upset."
"She's devastated. She doesn't understand why someone would do this, why someone would fabricate this false report," the attorney said. "They were very close for years and for someone to do this, it's just baffling and mind boggling, and she isn't able to wrap her head around it."
The attorney then shared what the future could look like after the ladies go to court on March 29.
"If there's no permanent restraining order, then this all goes away next week and business as usual. If there's a permanent restraining order, it'll be like any of these other reality TV stars that are convicted and go to prison. I mean, that's basically you can't participate, or they have to participate separately, so I don't know how [Bravo's] going to work around it."
The U.S. Sun also spoke to Couples Therapy's Dr. Jenn Mann, who reacted to Sandoval and Raquel's potential future.
"They both sound like they could use some of the time alone to do some insight work and better understand why they made such unhealthy choices and hurt so many people. But I suspect given the secret nature of their affair and the high level of excitement that goes along with it, that they will not stop," she shared. "That relationship dynamic is addictive."
Vanderpump Rules season 10 airs Wednesdays at 9/8c on Bravo.


Post source: RB