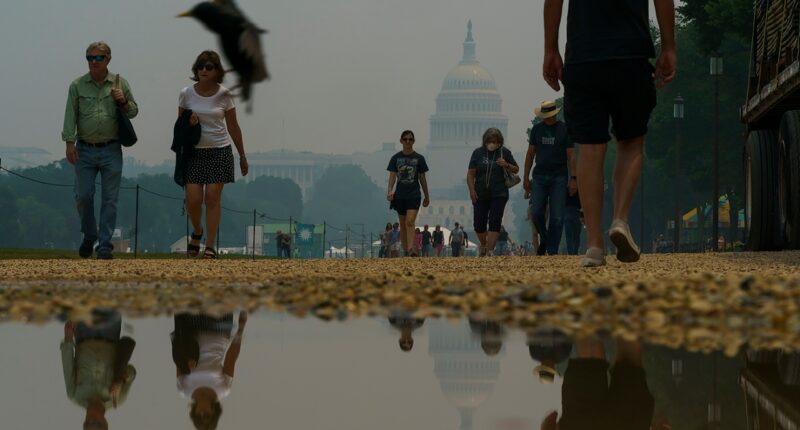 Smoke carpeting the East Coast is offering a stark reminder of what's at stake from climate change.
The unusual event, spurred by wildfires in Canada, illustrates the kind of conditions many states, cities and nations may have to deal with on an increasing basis as global warming leads to severe weather and its after-effects.
Nightmarish images of East Coast cities circulated widely this week, with New York City appearing with an orange hue while a dusty haze obscured famous monuments in Washington. 
Tourists are seen at the World War II Memorial in Washington, D.C., June 8. The Air Quality Index was 308 at 11 a.m. as wildfire smoke from Canada continues to come down through the East Coast.
Politicians and scientists alike invoked the changing climate, which is expected to worsen wildfires, especially in regions like the western U.S. and Canada.
"On the East Coast, it's an ungodly, dystopian landscape, the stuff of science-fiction, movies set in Martian landscapes, except it's right now and it's right here," Sen. Ed Markey (D-Mass.) said in a Thursday floor speech. "Climate change means more heat in the atmosphere … more heat, less water, that's fuel for fire."
Moving forward, the West Coast, which is already seeing worsened wildfires due to climate change, is expected to bear the brunt of the problem as planetary warming dries out the area. 
"In Western North America … we know that the area burned has increased substantially in recent decades. In the Western United States about half of that increase in area burned has been contributed by climate change," said Noah Diffenbaugh, a professor of Earth system science at Stanford University.
"It's a pretty clear climate change fingerprint over, say, the Western U.S. as far as the fire seasons becoming more severe," said Robert Field, an associate research scientist at Columbia University.
---
Related coverage from The Hill:
---
As for the Eastern U.S., the impacts are more complicated.
Field said that in some places, including Quebec, where the smoke blanketing the East Coast comes from, the fire season will be hotter and longer, but it may also have more precipitation that makes the season less severe. 
Overall, he said climate change is still making wildfires "more likely" in places like Quebec but "less so than in other places" like the West. 
Field also noted that the East Coast could experience smoke that wafts over from the West and that as Western fires grow worse, resources will be stretched thinner to fight fires that also crop up in the East. 
Some warming — and the wildfire risks that come with it — is already baked in.
The world has warmed about 1.1 degrees Celsius (or about 2 degrees Fahrenheit), and Diffenbaugh says that some fire conditions are inevitable. 
But, he said, even more intense impacts are still preventable if nations can cut down on their emissions.
"We can be very confident that we're going to experience further global warming and a continued intensification of the kind of conditions we've been experiencing associated with climate change," he said. 
But, he added, "the more emissions that occur, the more global warming will happen and the more those extreme climate conditions will continue to intensify."
As climate change worsens, more extreme fire seasons may also cause more health problems. 
Stuart Batterman, an environmental health professor at the University of Michigan, noted that even short-term exposure to the smokey air in the East this week can result in conditions like shortness of breath, asthma attacks or even heart attacks. 
"What has happened historically after a couple-of-day exposure to air pollutants like this … we see bump ups in the rate of hospital admissions for cardiovascular and respiratory disease and we also see increased rates of mortality," Batterman said. 
"People die from this, and these kinds of events sometimes occur in the next couple of days or weeks following the air pollution episode itself," he added. 
Copyright 2023 Nexstar Media Inc. All rights reserved. This material may not be published, broadcast, rewritten, or redistributed.