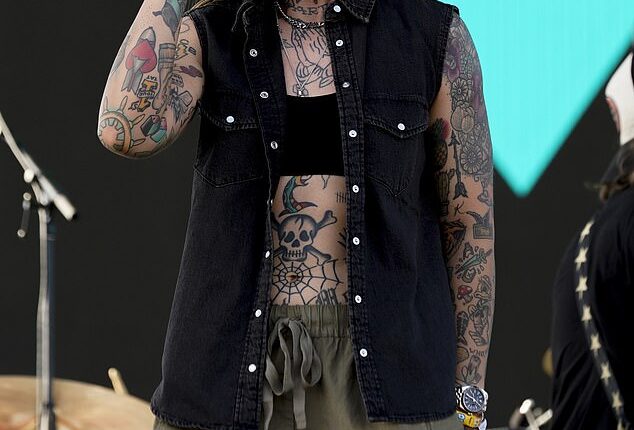 Country singer Morgan Wade plans to have a double mastectomy after learning she has a gene mutation increasing risk of breast cancer
Wade told Page Six she has a mutation on the BRCA gene
Fifty percent of women with the mutation will develop breast cancer by age 70
The 28-year-old singer plans to continue performing until her November surgery
Morgan Wade has announced that she will undergo a double mastectomy to reduce her risk of developing breast cancer.
The 28-year-old country music singer revealed to Page Six that she planned to have the surgery after testing positive for the BRCA gene mutation.
'I had the BRCA gene, it's a breast cancer gene so I'm having a double mastectomy in November,' she explained at the Highways Festival in London on Saturday.
She added that she is committed to her music and performances ahead of her major surgery. 
'I'm going really hard up until November so then November and December I have off to rest,' Wade continued.
Preventative: The country singer Morgan Wade, 28, revealed to Page Six last week that she had would undergo a double mastectomy to decrease her likelihood of developing breast cancer; seen April 29 in Indio, Calif.
Testing: The songstress shared that she tested positive for a BRCA gene mutation. Around 50 percent of women with the mutation will develop breast cancer by 70, as opposed to 7 percent of the population without the mutation; seen in London on May 20
Although all women have both the BRCA1 and BRCA2 genes, some women have mutations on those genes that significantly increase their cancer risks, according to the Centers for Disease Control and Prevention.
Under ideal conditions, BRCA1 and BRCA2 produce proteins that can repair damage to DNA. 
But cells are more likely to divide quickly and change over time in women who have a mutation on either gene, and around 50 percent of women with one of the mutations will develop breast cancer by the time they turn 70, compared to only around 7 percent of the population without the mutation.
The condition can also indicate an increased risk of developing ovarian cancer as well. Around 30 percent of women with one of the mutation will develop that condition by age 70, as opposed to only about 1 percent of the population without the mutation.
In addition to preventative surgeries, women with the mutation may also take drugs to decrease or block estrogen in the body to prevent cancer from developing.
Although she faces the possibility of major health issues in the future, Wade is already focusing on her recover.
'I'm feeling fine, I'm just pissed I won't be able to work out because I really like working out,' the songstress shared, adding that she normally works out every day of the week. 'That's my only qualm about it.'
The BRCA1 and BRCA2 genes are passed on by a person's mother and father, and if either has the gene mutation, their child has a 50 percent chance of also having the mutation.
Wade told Page Six that she learned she was a carrier of the mutation during a string of performances in Europe in 2022.
'My mom had it, and my little cousin is going to get it, but I'll be fine,' she declared optimistically.
Wade said her mother 'had' the mutation and her 'little cousin' likely has it, 'but I'll be fine.' She joked her only worries were about not being able to work out immediately after the surgery; seen April 29
Rising star: Wade's 2021 sophomore LP Reckless was a commercial hit and Rolling Stone's best country album of 2021. Her third LP Psychopath is out on August 25; seen May 20
Wade, who only started writing songs in college, made her recording debut with the self-released LP Puppets With My Heart in 2018.
Her 2021 sophomore album Reckless significantly increased her profile, and it scored a number 8 peak on the Billboard folk music chart, while peaking at number 30 on Billboard's country albums chart.
Reckless was rereleased earlier this year on the major label Arista Nashville, after Rolling Stone named it the best country and Americana album of 2021.
She next plans to release her third LP Psychopath on August 25 via Sony Music Nashville. 


This post first appeared on Daily mail