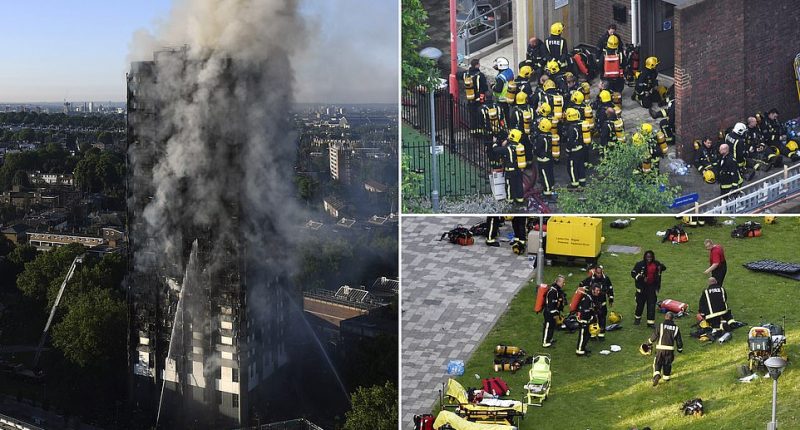 Cancer hell of Grenfell heroes: Up to a dozen firefighters who battled tower block inferno that killed 72 are now ill with several with rare terminal tumors caused by inhaling pollutants – amid fears more are yet to be diagnosed
Advertisement
Several hero firefighters who battled the fatal Grenfell Tower inferno are now fighting rare cancers linked to prolonged exposure to pollutants. About a dozen firefighters who worked the west London fire in June 2017 have since been diagnosed with cancer, an investigation by The Mirror has revealed. But experts fear there could end up being more than 20 cases linked the blaze, which consumed the lives of 72 residents.
The accidental fire (pictured), which was the worst in Britain for more than a generation, was accelerated by deadly combustible cladding. Many of those who died had been told to stay in their flats. Fire service sources told the newspaper that several Grenfell firefighters, some only in their 40s, are already battling cancer. The majority of diagnoses were for digestive cancers and leukemia. Other illnesses recorded after the tragedy include kidney failure, heart disease and strokes. Experts say the diagnoses can be linked to 'high levels of unprecedented exposure to contaminants' during the fire. Officials are currently putting together a list of firefighters who attended Grenfell and have since been diagnosed with cancer.
The sources said they are expecting some 'really depressing' and 'shocking' data to be disclosed soon, but fear it may only be just the beginning as some cancers can take up to 25 years to appear. Around 1,300 firefighters (pictured) are thought to have been involved in the Grenfell tragedy, including those both inside and outside the tower, as well as those who responded in the days following the inferno. Many firefighters who attended Grenfell ran out of air in the tower, sat in contaminated suits for over 10 hours and waited in a smoke-logged basement for up to six hours. 
The heroes were seen eating and drinking in their soot-covered protective clothing, with health experts allege could cause digestive cancer. Firefighters – many not wearing protection – doused hotspots in the aftermath when toxins were believed to have been 'even more dangerous.' Research commissioned by the Fire Brigades' Union and the University of Central Lancashire has since found firefighters who notice soot in their nose or throat are at least twice as likely to be diagnosed with cancer. They are also twice as likely to be diagnosed with cancer if they remained in their PPE for more than four hours, as seen at Grenfell.
'This vital research proves that firefighters are suffering and dying from cancer, strokes, heart disease, and mental ill health as a result of going to work and protecting the public,' Riccardo la Torre, Fire Brigades Union national official, told The Mirror. 'We now know that firefighters are exposed to health and life-threatening contaminants as a result of their occupation, and certainly would have been at an incident the size and scale of the Grenfell Tower Fire.' He confirmed the Fire Brigades Union is commissioning 'further research' to help demand 'proper protection and support' for the firefighters who attended Grenfell, as well as all other crews in the UK.
Meantime, the National Fire Chiefs Council told the newspaper that the safety and well-being of firefighters and the public is its 'number one priority.' 'The role of a firefighter is clearly one which can be dangerous and brings substantial occupational risk for the protection of those in need,' the council stated. 'It is recognized that whilst firefighters carry out their role, they are exposed to contaminants. It is acknowledged that incidences of some cancers in firefighters are higher than the average.' The council reiterated it is committed to 'ensuring the ongoing, improved safety of all firefighters, making full use of the evidence and knowledge available.'
MailOnline has approached the National Fire Chiefs Council and Fire Brigades Union for comment. A London Fire Brigade spokesperson said: 'Our firefighters must be as safe as possible when doing their jobs and we are currently involved in two studies to investigate the possible impact of contaminants on health, including one directly linked to the Grenfell Tower fire. All firefighters and officers who attended Grenfell have been invited to take part in the research project, which carefully monitors their health even after they retire or leave the service. Staff also have access to our occupational health service to support them through periods of ill health.'
Want more stories like this from the Daily Mail? Visit our profile page here and hit the follow button above for more of the news you need.
Advertisement


This post first appeared on Daily mail