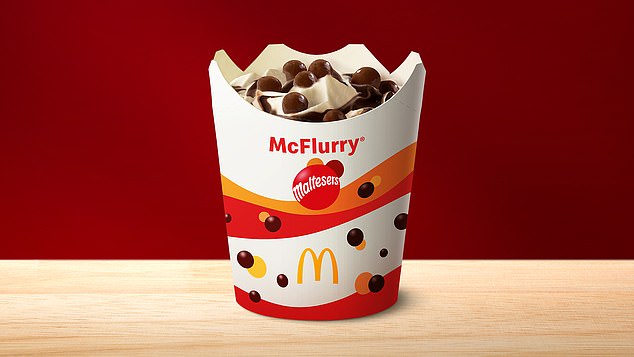 McDonald's to launch a delicious new in-demand McFlurry flavour – but you'll have to be quick
McDonald's releases Malteser McFlurry
It will be available from Wednesday, March 22 
McDonald's is bringing back a new McFlurry flavour but you better be quick as it will only be available for a limited time.
Macca's has teamed up with one of the country's favourite chocolate treat, Maltesers, to launch the delicious Maltesers McFlurry. 
The new McFlurry flavour will be available on the menu for foodies to order from Wednesday, March 22. 
McDonald's creamy soft serve will be topped with crushed crunchy Maltesers and drizzled with a sweet chocolate sauce. 
Customers can get Maltesers McFlurry in McDonald's outlets nationwide as well as on the MyMacca's app and McDelivery. 
McDonald's is releasing a Maltesers McFlurry for a limited time in restaurants all over the country from Wednesday March 22
The last time the Malteser McFlurry was on Australian Macca's menus was in 2012 but it has been a regular addition in international restaurants.  
The Malteasers McFlurry will be added to the menu alongside the classic M&Ms and Oreo varieties. 
Senior Brand Manager for McDonald's Australia Liz Whitbread said: 'We know how much love there is for our McFlurry collaborations, so we are very excited to launch the Maltesers McFlurry and bring together our iconic soft serve with light and delicious Maltesers.
'If you're looking for an afternoon snack or dessert after dinner, the Maltesers McFlurry will satisfy those cravings every time.'
The release of the Maltesers McFlurry comes after a Cadbury Caramilk Hokey Pokey McFlurry was introduced for a limited time last year. 


Post source: Daily mail