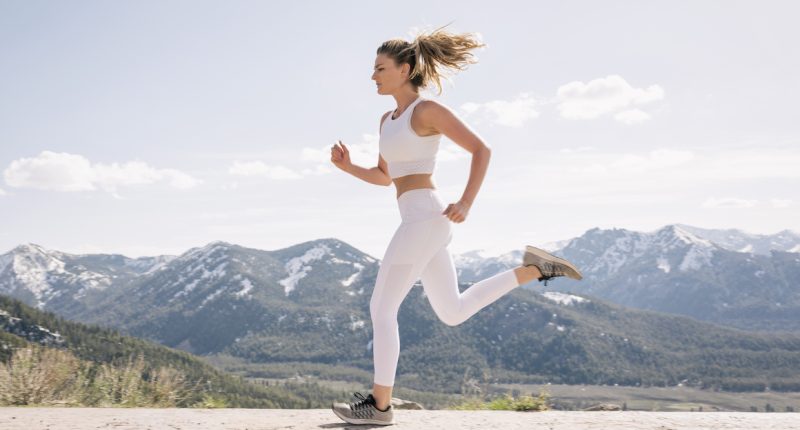 With the Well+Good SHOP, our editors put their years of know-how to work in order to pick products (from skin care to self care and beyond) they're betting you'll love. While our editors independently select these products, making a purchase through our links may earn Well+Good a commission. Happy shopping!
Explore the SHOP
Finding the perfect pair of sneakers is similar to finding a soulmate. You may have to go through a lot of pain and discomfort along the way, but when it's right, you'll know immediately. And while the sneaker market (similar to the online dating pool) has no shortage of options, there's one pair that a podiatrist recommends time and time again as being a match for everyone.
The Asics Gel Kayano has come up repeatedly as being the best foot-stabilizing shoe money can buy, and Miguel Cunha, DPM, founder of Gotham Foot Care in New York City, has touted its benefits for walking, running, and every activity in between. It's designed for people who need a bit more stability in their movement (aka people with flat feet, whose feet "overpronate" or roll inward when they run), and has next-gen technology that provides both comfort and support.
"Runners will find this sneaker to have superior comfort that enhances the foot's natural gait from heel strike to toe-off," says Dr. Cunha. "This shoe is designed with rearfoot and forefoot gel technology that provides superior cushioning and shock absorption.  This shoe incorporates exceptional durability and lightweight materials with a medial extension from the midsole to the heel for increased motion control.  Last but not least, these sneakers include an additional 3 millimeters of midsole height to decrease tension placed on the plantar fascia and Achilles tendon."
No matter what type of runner (or pronator) you are, according to Dr. Cunha, Asics has got you covered.
Asics, Gel-Kayano 29 — $160.00
Sizes available: 5-13, in half sizes
As a lifelong Gel Kayano wearer (and, according to the people at the local running store, an overpronator) I can attest to the fact that these sneaks are the real deal. I was logging miles in the wrong shoes for years, and couldn't figure out why my hips and knees were constantly in pain. After a few runs in my Kayanos, though, the problems went away. I've owned at least a dozen pairs over the last decade, and since the brand comes out with new color combos every season, have yet to get bored of selecting my shades.
Colors: 23
Asics, Gel-Nimbus 24 — $120.00
Sizes available: 5-13, in half sizes and two widths
If you've got neutral feet (meaning that you aren't an overpronator), there's another pair of Asics kicks that Dr. Cunha regularly recommends: The Asics Gel Nimbus 22. "If you're neutral, you distribute weight evenly across your feet so motion control and support is not as critical as stability," he says. "This shoe is the softest, lightweight, and flexible shoe as it can bend and twist more in the middle of the shoe." And in case a podiatrist's word isn't enough to convince you? Peloton instructor Jess Sims swears by these sneakers for all of her workouts. "I've always run in Asics," she says. "Asics has been my go-to because they support my feet. I also love to have a little fun with the style of the shoes."
Colors: 22
Our editors independently select these products. Making a purchase through our links may earn Well+Good a commission.
Post source: Well and Good