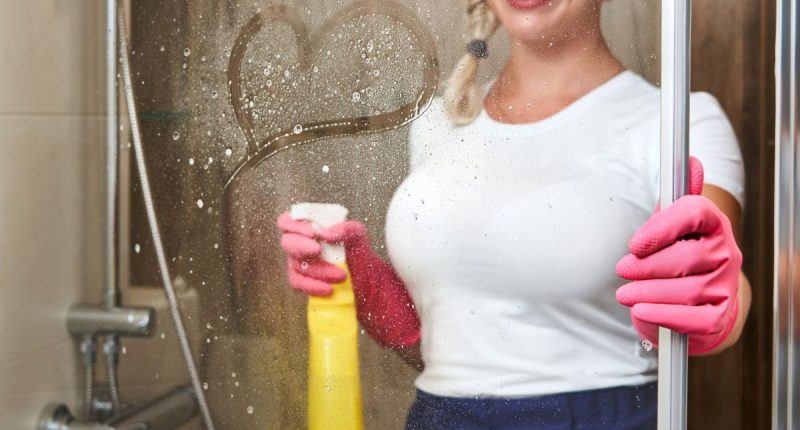 First of all, what is limescale and why does it appear on a glass? Water that we are using is not chemically pure. It contains various minerals and metals like calcium, fluoride or magnesium. Hardness of water depends on how much of those minerals carry your water. So when we say that the water is hard it means that it has a high concentration of minerals and metals, and so in combination with soap, creates that ugly residue on water taps, shower tiles and shower screens. Of course it is most visible on a shower glass, ruining the looks of your bathroom. However, fans of Mrs Hinch have found a way to clean shower screens and remove this "stubborn" buildup.
Taking to Mrs Hinch Cleaning Tips Facebook page, Amanda Cousins wrote: "Please help, I've tried vinegar, elbow grease, pink stuff, pure bleach, scourer and a scraper.
"I can not get these hard water stains off the shower glass for the lady I clean for. She's not bothered that I can't get it off but I'm determined and it's driving me nuts."
The post received over a staggering 1,000 comments from fellow cleaning enthusiasts on what products to use to get the job done.
Many Mrs Hinch fans suggested using a popular limescale remover spray known as Vikal. Joanne McPhee said: "Viakal. Spray and leave for as long as you can. After the limescale should just wipe right off."
READ MORE: Mould will 'vanish' from bathroom sealant and grout with 95p spray
Natalie Bell said: "Vikal and leave for a while, spray loads and loads. It will come off."
According to the brand's website, this product is "ideal for removing even the toughest limescale" and cleaning soap scum and watermarks in your bathroom and kitchen. 
They added: "Used regularly, Viakal limescale remover will provide clean and shiny surfaces every day. Its special formula respects your surfaces and helps prevent limescale return."
Another limescale removing spray recommended was to use Cillit Bang Limescale and Grime spray. 
READ MORE: Strip towels of 'unpleasant' smells with 'effective' kitchen staple
Hannah Williams said: "Cillit bang limescale spray works every time on ours and we have terrible hard water."
Wendy Gladwell commented: "Cillit Bang limescale remover works first time. I had this on my shower screen in our house on the west coast islands of Scotland. It worked wonders. 
"Apply and rub thoroughly in with a cloth, rinse and repeat on any stubborn areas. A good everyday bathroom cleaner will keep it up once cleared of limescale. 
"You will need to dry screen once a week with an old towel and shine up with a microfibre cloth to keep it from reappearing though. Don't use a scourer, it will scratch the screen."
Other Mrs Hinch fans recommended taking the natural route using baking soda and white vinegar.
Rebecca Salamankas said: "Make a paste with vinegar and baking soda. Scrub it on the shower and let it sit for 10 minutes. Then scrub the shower. Then take vinegar and scrub over again. Then rinse with vinegar and dry. May take several times, but it's the only thing that worked for my shower that looked like that."
Shireen Mohamand advised: "Use baking soda and vinegar. Make a paste leave on glass for 20 minutes. Then wash and wipe it dry."
Siobhan Dunne added: "White vinegar spray, spray on, leave on for about 10 minutes and then spray another bit on when it's dried in and leave for another five muted. Then use the green and yellow sponge and window cleaner with kitchen roll after to give it a shine." 




Post source: Express