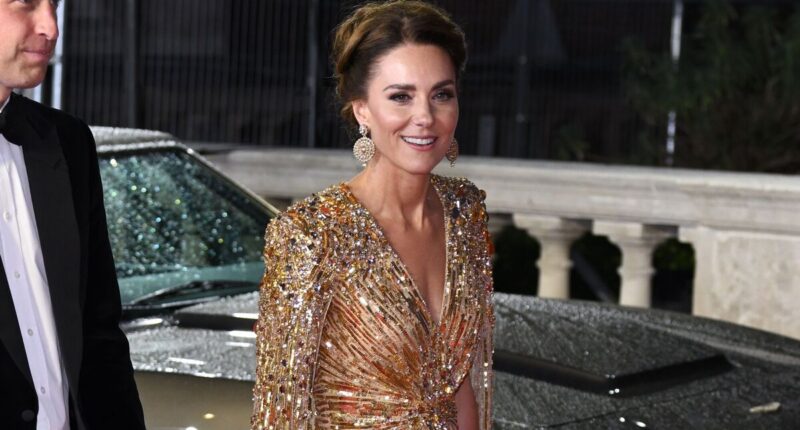 Kate Middleton, 41, is an international style icon, with the term "Kate Middleton style" already being searched 1,604 times in 2023.
Megan Watkins, the head stylist at SilkFred, has researched Kate's most popular outfits to identify which are the Princess of Wales's most remembered ensembles.
Strangely enough, Kate's gold Jenny Packham dress that she wore to the James Bond premiere in 2021 did not make the top six.
There isn't a week that passes by when the Princess of Wales's newest looks aren't in the news.
Her chic combination of designer and high-street clothing keeps her both relevant and chic, a combination that has unquestionably won the British public's affection over the years. But which of her ensembles will go down in fashion history as the most memorable?
READ MORE: Sophie's tips for maintaining her trim figure including '450-mile' exercise
1. Kate Middleton's wedding dress – 4,543 searches
Kate's wedding dress is her most popular outfit. This stunning Sarah Burton-designed gown will always be remembered in wedding dress history.
The dress featured gorgeous lace panels, with shamrock, daffodil, and thistle embroidery.
2. Kate Middleton's tartan dress – 2,181 searches
During a visit to Dundee in 2019, Kate's tartan coat dress garnered a lot of attention online and earned the second-most Google searches of any of her outfits.
Although the idea of wearing a whole tartan suit seems old-fashioned, Kate pulled it off with elegance and regality.
It also helped that Alexander McQueen created this ensemble, which has a statement power dressing vibe.
3. Kate Middleton's polka dot dress – 2,150 searches
Kate wore a beautiful Alessandra Rich polka dot dress to the 2022 Royal Ascot. She has worn other polka-dot dresses in the past, too.
For instance, in this same year, she appeared at Wimbledon in a blue dress by Alessandra Rich with white polka dots.
4. Kate Middleton green coat – 1,982 searches
Google searches for "Kate Middleton green coat" totalled 1,982 after Kate wore a gorgeous green Alexander McQueen coat.
The Princess visited Leeds in the north of England in February 2023 to celebrate the launch of her "Shaping Us" campaign.
She wore a longline, traditional green coat by Alexander McQueen over a cream Victoria Beckham dress and a pair of brown suede boots by Gianvito Rossi.
5. Kate Middleton Royal Ascot dress – 1,874 searches
A popular search term, "Kate Middleton Royal Ascot dress" refers to the alluring blue outfit that Kate wore in 2019.
Although it appears to be a dress, this Elie Saab ensemble is actually a matching top and skirt, which Kate accessorised with a handbag and a pair of metallic court shoes.
In this brilliant two-piece outfit, Kate demonstrated to fans how to dress in stylish co-ords, establishing Britons' love of co-ords in 2023.
Proving her thrifty nature, Kate re-wore this outfit earlier this month at a Buckingham Palace Garden Party.
6. Kate Middleton's white coat – 1,834 searches
Over the years as a working royal, Kate has won herself the nickname "Thrifty Kate".
This is because she has been spotted re-wearing multiple pieces from her wardrobe several times.
The high street shop Reiss created a figure-flattering coat in a stunning brilliant white shade, which Kate bought in 2008.
Kate was first seen wearing this coat at William's graduation ceremony in 2008 at the Central Flying School at RAF Cranwell, but she most notably donned it during a tour to Ireland in 2020.




Post source: Express