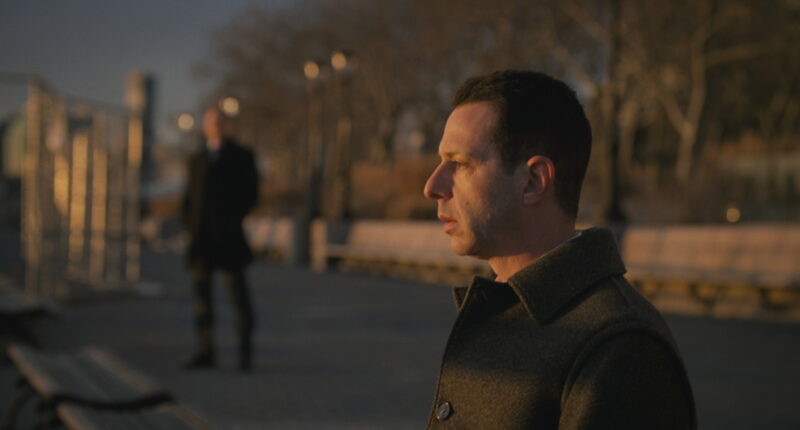 Despite Logan being killed off in episode 3 and buried in episode 9, Logan's specter still looms large as the one to blame for Ken, Roman, and Shiv all believing they should wear the crown. Similar to Logan's sly smile when Kendall snitched on the cruises scandal in the season 2 finale, the deceased media mogul has helped mold Kendall into his protégé more than the others, but not necessarily to run the company – was it underlined or crossed out? The roaring Logan ultimately failed to shape Kendall into a Mini-Me version of himself, as the big man famously said himself, "You're not a killer." 
Determined to prove his father wrong, Killer Kendall has emerged in the final season through the likes of blackmailing Hugo (Fisher Stevens), trying to shaft Lukas Matsson (Alexander Skarsgård) and even backing Jeryd Mencken (Justin Kirk). There's also the other aspect of 'killer' Kendall. 
Speaking to Vanity Fair about Kendall's finale fate and the critical moment it all comes back to the waiter he killed, Strong explained, "His ability to lie, to say and do whatever it takes to achieve what he wants. …We see him become his father. [There's] that moment when Logan says on the boat in Croatia about the waiter who died, 'No real person involved.' Jesse brought Kendall to that same moment, when I say: 'I wasn't even there. I never got in the car.' It's tantamount to me saying, 'no real person involved.'" 
Giving Kendall a modernized Monkey's Paw curse means he inadvertently gets what he wants in terms of being his father. After Tom is crowned and Kendall skulks away from Roystar Wayco, the final scene features Kendall as a mirror image of his father. He is betrayed by his family and strolls around with only Colin the bodyguard (Scott Nicholson) by his side. Even though Kendall is his father in terms of misery, he's hardly the Roy patriarch in personality. As we saw with Kendall struggling to call the election for Mencken, he's a far cry from Logan as he struggles to make decisions the family patriarch would've made in a heartbeat. 
In the Vanity Fair interview, Strong drew further parallels between Kendall and Logan, adding, "While Logan had a kind of reptilian brutality and a primitive energy, Kendall is more of a boy-man. He has a sensitivity and a self-awareness that I think his father didn't have, but he also has a potential for tyranny and moral bankruptcy or amorality." Concluding that Kendall is a diluted Logan, Strong said, "I don't know what's more frightening, actually: a Logan Roy, or a Kendall Roy in power?"
The Future of Kendall Roy
Armstrong has assured fans there won't be a Succession spinoff, meaning this is the end of the road for the Roys. In terms of what happens next, Strong suggested an alternate ending where Kendall throws himself into the freezing water to potentially end his life, bringing the show's many themes of water to a poignant end. It would be a fitting end to Kendall, but speaking in the post-episode featurette, Armstrong knows the character will go on.